Watch Stephen Colbert Shave His Beard In First Late Show Promo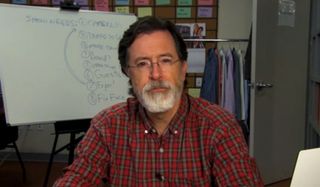 It's been a while since we've seen Stephen Colbert. His satirically political Comedy Central show, The Colbert Report, went off the air at the tail end of last year, and he's been killing time before taking over the hosting duties for CBS' The Late Show from David Letterman. Part of his downtime has been spent growing a sweet beard, but it's time for that to go, as you can clearly see in this video below.
Though Letterman is gone from CBS' airwaves, we still have a while to wait before Colbert takes over the gig, and in the meantime, he's been acclimating to the bearded lifestyle. He adopted his beard, which he named Colbeard for obvious reasons, when he found it cold and alone on the side of the highway—I wish more people would get their beards this way. He used it blend in, befriend local store clerks, and learned that it's a handy dandy place to store things and keep your hands free (a beard is a perfect place to keep spare pen during your daily travels, you never know when you may need one). He also appeared on the cover of the fine publication Homeless Sea Captain Monthly. I missed that issue, my subscription lapsed.
But as with all things, their time together had to come to an end. Especially because Tom Selleck's mustache, the star of CBS' hit police drama Blue Bloods, apparently has a strict non-compete clause in its contract, and while Selleck is totally cool, his facial hair is bit litigious. Hence, Colbeard had to go. It's a sad day indeed.
Granted, I haven't shaved in almost a decade, but Colbert does that thing every guy does when he gets rid of a beard, experimenting with a variety of different looks as he gradually hacks it down. He starts with the "Un-Hitler," moves on to the Amish look, and stops off in "Half-Wolverine" town before returning to his traditional clean-shaven visage.
But if you thought a smooth-faced Stephen Colbert would be the end of it, you're wrong. There is, of course, the dreamy, wistful montage of Colbert and Colbeard's time together set to Green Day's "Time of Your Life." Or at least a version of the song. Who knew that the lyrics for "Camptown Races" matched up so well?
Hopefully you didn't watch this vide and get too overly excited for Colbert's Late Night takeover. This video is mostly just to remind you that it's imminent, but he doesn't actually hit the network until September 8.
Your Daily Blend of Entertainment News