Wild Things With Dominic Monaghan Headed To BBC America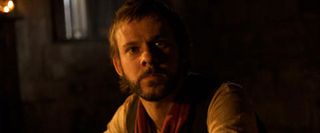 It was while watching an insect-themed episode of Lifetime's Project Accessory that I first began to understand the absolute obsession some adults have with creepy crawly creatures. Other channels are now catching on to this insect interest, as well. BBC America is creating a show for all the people in the world who have an odd obsession with insects. Here's looking at you, Project Accessory contestant Rich Sandomeno.
Called Wild Things, the upcoming BBC America show will follow Lost and Lord of the Rings alum Dominic Monaghan as he travels around the world, searching for various creepy crawlies. According to THR, Wild Things with Dominic Monaghan is already in production and will feature some of the "biggest, scariest, and weirdest insects on the planet."
I wouldn't automatically pin Monaghan as an insect lover, but apparently jumping into the natural world is nothing new to the actor.
While Monaghan's words speak more about his love for the outdoors than his knowledge of insects, BBC Worldwide America GM Perry Simon assures us the actor has knowledge of insects to back up his people skills.
The Cream Productions and Wildfire Television produced series, which is set to premiere sometime later this year, sounds pretty interesting. By crossing the typical travel show with the weird insect premise, Wild Things should be able to garner the interest of multiple audiences. Even people like me, who love travel shows but do not dig insects quite as much.
Your Daily Blend of Entertainment News
Your Daily Blend of Entertainment News
Thank you for signing up to CinemaBlend. You will receive a verification email shortly.
There was a problem. Please refresh the page and try again.