William Shatner To Show Us If It's Weird Or What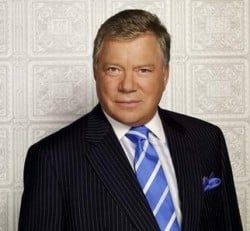 Discovery Channel in the US has greenlit a new series that will take another look at some of the weirdest unsolved mysteries around the world, as reported by Entertainment Weekly. Weird or What doesn't sound like its necessarily treading fresh ground, but with modern technology it could unearth new clues or possibly even solve some of these unsolvable cases. More importantly, it should be entertaining to watch if for no other reason than William Shatner is attached to host.
It's not clear if Shatner will host from a studio filled with TV monitors where he'll just introduce video segments, or if he'll get hands on with the cases, going into the field and helping the teams explore the mysteries, but either way it should be a lot of fun. After all, Shatner made spoken word poetry cool again.
Hopefully this won't interfere with his attachment to the pilot based on the Twitter account Shit My Dad Says, because I desperately want to see Shatner in a flat-out comedy again. But until then, I'm sure he'll add a great sense of humor to Weird or What, as he explores paranormal activities, acts of god and medical mysteries.
No word on when Weird or What will premiere, but when it does US fans can look for it on the Discovery Channel, while our Canadian neighbors will find it on the History Channel.
Your Daily Blend of Entertainment News
Your Daily Blend of Entertainment News
Thank you for signing up to CinemaBlend. You will receive a verification email shortly.
There was a problem. Please refresh the page and try again.