Could Arrested Development's Michael Cera And Jessica Walter Reunite On Archer?
Here's what he had to say.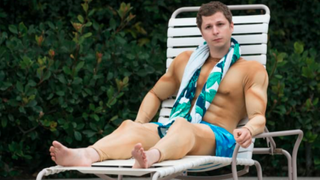 (Image credit: Fox)
Any Archer fan worthy of their tactilneck can tell you the espionage-comedy cartoon series owes a great debt to Arrested Development. Like the brilliant but short-lived sitcom about the battling Bluth family, Archer has a comedy style that relies on in-jokes, callbacks and ludicrous characters. Moreover, there's been quite a bit of casting crossover with Jessica Walter, Judy Greer, Jeffrey Tambor, and David Cross all lending their voices to Archer in either lead roles or guest spots.

Executive producers Adam Reed and Matt Thompson have been open about their admiration for Arrested Development, stating it is "the best televisions show of the last ten years." But does this mean we'll see—well, hear—more of the Bluth clan in Archer's soon-to-debut season four?

Last night, before the excited crowds came into Irving Plaza's Archer Live! event, I had a chance to pose this question to a panel that included much of the main cast and Thompson, whose response was a reluctant, "It's a surprise. I can't tell you right now." Walters, who had perked up at the mere mention of the show she's clearly still proud of, added, "I don't even know!" This prompted Lucky Yates, who plays the Hitler-clone Dr. Krieger, to laugh, "I think that's a no! Maybe in Season five."

However, the topic came up again once the live show was opened up to questions from the audience. This time Walters caused a small riot by one, mentioning Arrested Development's return this spring, and two by telling her adoring fans that her onscreen grandson is interested in a guest spot on Archer, saying.
The crowd responded with giddy gasps and cheers, and hopefully this will be enough to encourage Reed and Thompson to find a spot for Cera amid their slick and silly world of snarky spies, sexy cyborgs, and traditional genre-role eschewing pirates. The mind boggles at the possibilities.

Archer's fourth season kicks off on FX January 17th at 10 PM. Season 3 is now available on DVD and Blu-ray. Look for details on Season 4, plus my full review of Archer Live! to be posted later this week.
Your Daily Blend of Entertainment News
Your Daily Blend of Entertainment News
Thank you for signing up to CinemaBlend. You will receive a verification email shortly.
There was a problem. Please refresh the page and try again.