To 3D Or Not To 3D: Buy The Right Titanic 25th Anniversary Ticket
Do Jack and Rose look even more adorable in 3D... again?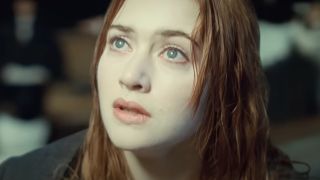 (Image credit: Paramount/20th Century Studos/Lightstorm Entertainment)
Filmmaker James Cameron, one of the patron saints of the 3D format, wasn't always able to use this format when crafting his iconic stories. Through post-conversion efforts on classics like Terminator 2: Judgement Day, fresh looks at his iconic filmography have been made available with third-dimensional enhancements for the modern world. Now, on the 25th anniversary of Titanic's crossing into theaters, it's time to ask yet again: To 3D or Not To 3D?
We're not reviewing the 1997 romantic-drama classic, as we all know what to expect. Also, CinemaBlend didn't exist in '97, so apologies if we don't have some sweet low-res photos from the early days of the internet. But if you're wondering about whether you should book 3D passage on the Titanic, or if you're better off missing the boat, this is the place to be.
FIT SCORE - 2/5
Not every movie needs a 3D conversion because the action from a title like Titanic doesn't necessarily scale into the third dimension in a worthwhile way. There are certainly moments that could look good in a 3D context, especially when the plot gets to the sinking of the ship. At face value, Titanic 25th Anniversary isn't the best fit for a conversion effort.
That doesn't mean it couldn't be turned into a 3D thrill ride with the right approach. No Time To Die's 3D version was a pleasant surprise that injected depth and fun into a movie that doesn't seem outwardly ready for the format. Rather than Titanic 3D showing surprising advantages no one could have predicted, it's a finished product that proves why this sort of conversion needs careful thought and consideration.
PLANNING & EFFORT 2/5
For a movie that wasn't shot with any intent to become a 3D spectacle, planning and effort is the true "make or break" point when even thinking of a conversion effort. With James Cameron being a proponent of the 3D format, especially through his work on the Avatar franchise, it might feel like this was going to be a slam dunk. This is especially true when adding the advertised 4K remaster into the mix, which was done for the 25th anniversary re-release.
It pains me to say that neither the 3D nor the 4K feel truly planned out. Through the efforts of SDFX Studios, Titanic 3D was originally converted back for the 2012 re-release into theaters. I'm not sure if there was another pass at the 3D conversion, other than supposedly upgrading it for 4K, but this looks like the type of product we'd have gotten in that time period.
Not to mention, the picture quality didn't look very 4K, even when merely compared to both Avatar and Avatar: The Way of Water's use of that format in theaters last year. It's not like Titanic was perfect in its first third-dimensional run, as our 3D review from 2012 cited some specific problems from back in the day. Those could have been improved upon for this new re-issue, but from what I've seen, it doesn't look like any additional tweaking, 4K or otherwise, has been done.
BEFORE THE WINDOW - 1/5
When you hear the words "Iceberg, right ahead!" in a 3D movie, you're obviously going to expect that frozen foe to poke out of the screen. Or say there's a scene where a ship's officer is pointing a gun on the crowd; you'd want that to look like it's in your face as well, right? Brace yourselves, folks, as Titanic 25th Anniversary has very little thrills in that way.
Scenes involving guns and an iconic moment with the heart of the ocean are all that provide thrills that break the 3D window. Those pieces of entertainment are pretty scarce in Titanic, as again, this movie wasn't meant to be an action spectacular that got the 3D treatment. Conversion can only go so far in cases like this, and even then the results are rather underwhelming.
BEYOND THE WINDOW - 3/5
There are moments where Titanic's depth of picture feels endless, and there are times when it looks pretty cramped in the situations at hand. It's not because of the changing visual scope of the movie, or at least it doesn't feel limited to that, as plenty of other films have shown great 3D depth when showing something as simple as a conversation.
An improvement over the dismal showing made in the Before The Window department, Titanic 3D does manage to have a decent sense of spatial reasoning. Watching Bill Paxton and his crew making the early dives to the wreck is an example of when feeling cramped works out, as it actually matches the setting. Save for huge crowd scenes, like the boarding of the ship, there are intermittent degrees of depth that never truly feel endless.
BRIGHTNESS SCORE - 2/5
A good portion of Titanic's third act takes place in the evening, where everything from brilliant fireworks to the rich blue hue that covers Rose (Kate Winslett) while floating on the door colors the scene. That's after a good number of moments are shown in picturesque shades amber and pink through daytime scenes on the sailing ship.
A rich color palette inhabits this movie, and the 3D version robs it almost completely of its charm. Your mileage will vary depending on the theater you visit in order to watch the Titanic 25th Anniversary re-release. Not every multiplex maintains their gear to the same degree, which is key when shifting from 2D to 3D presentations.
At the theater I chose to watch Titanic, which was the same location I chose for the 3D review for Spider-Man: No Way Home, the picture quality was rather murky, especially during the more harrowing moments towards the end. Even when Rose is looking up in shock at the fireworks signaling for help, these visuals come off as too dark.
GLASSES OFF SCORE - 2/5
Dark picture quality can lead to the urge to remove your glasses during the show. That in turn leads to removing your glasses while enjoying a 3D movie, treating the audience to the potential blur that makes up the third-dimensional illusion. As such, I've gotten into the practice of flipping those glasses up and down during showings like this to see what sort of blur is present throughout the movie. What I saw with Titanic 3D was rather upsetting.
Wide shots seem to be the weakness in this part of the 3D experience, as James Cameron's sweeping images of the ship at sail have hardly any blur to them. I'm not talking about the fine amount of manipulation that can sometimes be seen attached to specific elements. Rather, I'm saying that when I lifted my glasses during the long distance shots of the ship, it looked like there was no blur present at all.
Portions of Titanic do have a nice degree of blurriness to them, and unsurprisingly, those are the moments that really play with the spatial reasoning of people sitting in a room together. Anything more open than that is a crap shoot at best.
AUDIENCE HEALTH - 3/5
Darkness is not your friend when it comes to Titanic's 3D re-release. While you're not going to feel nauseous or any sort of physical upset, the strain might be felt on your eyes as you're watching the movie. It got to the point where I think my eyes felt tired at the end of the movie simply because of how dark things get when you wear the glasses.
Action-wise, the motion of Jack and Rose's romantic journey never janks out the picture. Scenes of rapid movement still move clearly and don't wonk out your eyes like certain infamous moments in past 3D conversions would. The example that always comes to mind is when the Chitauri ride through the wormholes in The Avengers' 3D showings. Save for some eye strain with the prolonged darkness of this presentation, Titanic won't send your stomach for the lifeboats.
FINAL VERDICT: 15/35
Titanic may have been the ship of dreams, but this 3D conversion is close to nightmarish. It feels like a relic from the old days of cash grabs, where anything could be given a brush pass to add some extra ticket revenue. Older movies may not always work out in the 3D realm, as seen with last year's re-release of Jaws. The one advantage that movie had over James Cameron's seafaring tragedy is that there was at least more of an effort at work when it came to that Steven Spielberg classic.
If the Titanic 25th Anniversary re-release was running in IMAX 3D, or even 2D IMAX, I might have been more inclined to suggest seeing it. However, this is a strictly 3D affair, and it only runs until Ant-Man and the Wasp: Quantumania takes over the premium format landscape in a week's time. Unless you have a burning curiosity or know a place that you trust with your 3D viewing money, you shouldn't feel obliged to make room on the door for this disappointing result.
Your Daily Blend of Entertainment News
Senior Movies Contributor
CinemaBlend's James Bond (expert). Also versed in Large Scale Aggressors, time travel, and Guillermo del Toro. He fights for The User.