Deleted Avatar Scene: Jake Sully Gets In A Bar Brawl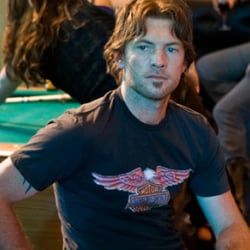 We've already seen a handful of deleted Avatar scenes included in the 3D re-release that hit theaters back in August (I go over the highlights here), but you know James Cameron won't stop there. Coming up on the November 16th three-disc DVD and Blu-Ray release is an "extended length cut," which includes sixteen more minutes of footage. Expect more Na'vi, more action, more Na'vi-on-Na'vi action, but also some more humans too.
At the Scream Awards Cameron showed up to present one never-before-seen clip, in which we meet Jake Sully back on earth and see him as a bar brawler-- a paraplegic bar brawler, mind you. It kinda reminds me of Kirk picking bar fights at the beginning of J.J. Abrams' Star Trek, and I honestly wonder if that might be why they cut it. Then again, the movie is damn long as it is and we know Jake is a roughneck, so this could have just put too fine a point on it.
Check out the super bootleg clip below, though don't expect it to last long. Hopefully a legit version (like what Spike TV did for the Super clip) will show up online soon.
Your Daily Blend of Entertainment News
Staff Writer at CinemaBlend