Factory Girl Is Sexy. Uncut. Unrated. For DVD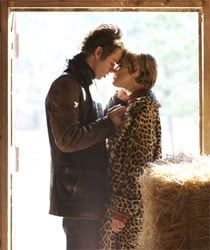 Typically when we hear the term "unrated" applied to a DVD it's an attempt from a horror movie to sneak a little bit of extra gore in. Sometimes it works, sometimes it doesn't; usually it doesn't – after all, that deleted material being put back in was cut for a reason. Because I'm so cautious about that "unrated" label, it catches me a little off guard when it's applied to films outside of the horror genre, especially serious dramas.
Factory Girl is the latest movie to wield the "unrated" banner. The movie, which depicts the life of Andy Warhol's muse Edie Sedgwick, takes place in a time of sexual and cultural revolution, so the film being "unrated" could be quite interesting. This is apparently director George Hickenlooper's edit of the movie, being advertised as "Sexy. Uncut. Unrated."
Genius Products LLC and The Weinstein Company is releasing this Unrated cut of Factory Girl to DVD on July 17th. The new cut of the movie isn't the only thing we're getting out of this DVD release. Take a look at the bonus material and cover art:
Special Features
Audio commentary by director George Hickenlooper
Deleted scene with optional audio commentary
"Making Factory Girl" featurette
"The Real Edie" featurette
Sienna Miller cast audition
The Guy Pearce Video Diaries
Theatrical Trailer
Your Daily Blend of Entertainment News
Thank you for signing up to CinemaBlend. You will receive a verification email shortly.
There was a problem. Please refresh the page and try again.