Get Some Leverage With These Clips From Season 2, Out On DVD Today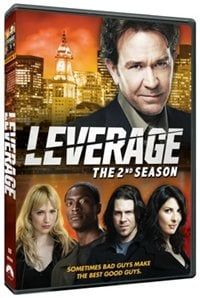 Showrunner/co-creator John Rogers has described TNT's Leverage as a modern-day The Rockford Files, and that's a surprisingly apt description. Not because the show's overlap much in concept or characters, but because their tone is much the same: light-hearted, exciting, and filled with a sense of fun that's sadly rare on TV these days. Even better, Leverage is wish-fulfillment television. Much of the joy of any given episode is not just trying to figure out the mechanics of the con before the show reveals its hand, but that these cons are being done at the expense of the sorts of slimy fatcats who always seem to get off scot-free here in the real world.
Leverage stars Timothy Hutton as the leader of a team of grifters and con men who decide to start using their talents for good. The team includes a thief (Beth Riesgraf), a tech expert (Aldis Hodge), a con woman extraordinaire (Gina Bellman), and a bruiser (Angel's Christian Kane). Bellman was ABOC (Absent Because Of Child) for most of season two, so the writers brought in a temporary replacement in the form of Tara Cole (Star Trek: Voyager's Jeri Ryan, handily exuding more sex appeal per square inch here than she ever did in the skintight Seven of Nine number).
The show hits DVD today, with audio commentary on all 15 episodes and other bonus features including a Q&A, a set tour, a gag reel, and several other featurettes. We've got three clips from the show if you're still not intrigued. Check 'em out and then pick up a copy of season two ASAP. You've got until June 20th to catch up before the third season premieres on TNT.
The Tap-Out Job
The Future Job
The Top Hat Job
Image 1 of 6
Image 2 of 6
Image 3 of 6
Image 4 of 6
Image 5 of 6
Image 6 of 6