Hancock Gets Uncut For Home Release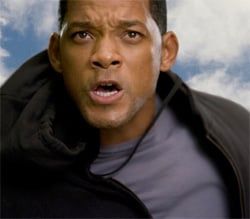 Hancock fared pretty well at the box office even though it was met with mixed reviews, and by mixed I mean nobody really seemed to like the movie even though they were willing to shell out cash for it. Because of its lukewarm reception, I don't imagine there are a ton of people out there who have been anxiously awaiting its DVD, but an unrated cut of the movie, which was rumored to have gone through several editing incarnations, just might be the thing to make Hancock just as successful on home theaters as he was in theaters.
The Will Smith super-hero movie comes crashing to DVD and Blu-ray on November 25th (he never could nail those landings). There will be quite a few incarnations for Hancock, from a single disc with either the theatrical or unrated cut, a two-disc special edition with both, and a Blu-ray edition. Obviously, bonus material varies based on the version you want to pick up.
There's no word on what exactly will be unrated about the new cut of the film. I'm going to go out on a limb and suggest it may not be anything special and certainly not the extended cut of the film (which would more likely be labeled a "director's cut" or "extended version" or something). I know any alternate version of the film is technically "unrated" if it wasn't submitted for review, but "uncut" always makes me think they've thrown in a few nude shots and called it a new version.
Here's a look at the bonus material you'll find on the different versions. We'll bring you cover art and more details as we get them.
Single Theatrical Edition or Unrated Edition DVD
Superhumans: The Making of Hancock
Seeing the Future
Building a Better Hero
Bumps and Bruises
Mere Mortals: Behind the Scenes with 'Dirty Pete'
2-Disc Unrated Special Edition DVD
Theatrical and Unrated Versions of Hancock
Superhumans: The Making of Hancock
Home Life
Seeing the Future
Suiting Up
Building a Better Hero
Bumps and Bruises
Mere Mortals: Behind the Scenes with 'Dirty Pete'
Bonus Digital Copy of the Film
2-Disc Blu-ray
Disc 1 Blu-ray
Theatrical and Unrated Versions of Hancock
BD-Live
Superhumans: The Making of Hancock
Home Life
Seeing the Future
Suiting Up
Building a Better Hero
Bumps and Bruises
Mere Mortals: Behind the Scenes with 'Dirty Pete'
Blu-ray Exclusive Feature: "On-Set Visual Diary" BonusView Picture-In-Picture, including a longer version of the Picture-In-Picture on the Unrated version of the film
Disc 2 DVD
Bonus Digital Copy of the Film
Your Daily Blend of Entertainment News