Mars Needed Viewers More Than Moms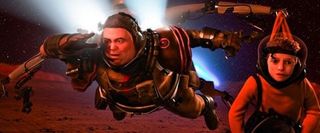 It's really upsetting people didn't see Mars Needs Moms. Not because it really deserved to be seen -- although it wasn't half bad -- but because its failure directly led to Robert Zemeckis closing his studio, ImageMovers Digital. This is the piss-poor part: ImageMovers Digital was rumored to have the Roger Rabbit sequel in the works. Now, it is probably lost to us, again.
No matter, though, because we'll always have Mars Needs Moms to remember the studio. In an early announcement, Disney, who owned Zemeckis' studio, has announced that Mars Needs Moms will be coming to 3D, Blu-ray, DVD, digital download, and On-Demand on August 9th. The basic DVD will only run you $29.99, but you'll only get two featurettes, one pertaining Seth Green and the other discussing the creation of a Martian language. Springing for the $39.99 Blu-ray will include the DVD features, as well as an extended opening sequence, deleted scenes, a full motion-capture segment, and a "flower power" Easter egg, although I don't really know how something qualifies as an Easter egg if the studio tells you about it. If you really support Robert Zemeckis, or 3D television, the $49.99 3D/Blu-ray/DVD/digital copy will come with the aforementioned extras and a "Mom-Napping" 3D exclusive.
The "Mom-Napping" exclusive is especially impressive, since it is one of the first full-3D extras ever to be included with a film set. The release of Mars Needs Moms won't exactly be Zemeckis going out with a bang, but, especially with the 3D extra, it is a reminder that Zemeckis has been experimenting with interesting aspects in film that are maybe just a bit too ahead of their time.
Image 1 of 3
Your Daily Blend of Entertainment News
Thank you for signing up to CinemaBlend. You will receive a verification email shortly.
There was a problem. Please refresh the page and try again.