The Proposal Proposes You Watch These Clips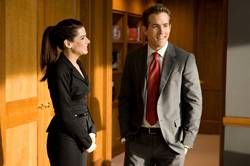 Ryan Reynolds' star has been on the rise of late, converting an appearance in a sub-par superhero movie (X-Men Origins: Wolverine) into potential lead roles in not one, but two hopefully above-par superhero movies (DC's Green Lantern and Marvel's Deadpool). Along the way, he thawed Sandra Bullock out of the carbonite block she's been encased in for a few years now and made a little rom-com called The Proposal.
Apparently Reynolds and Bullock's May-December romance struck the right chord, because it's brought in around $300M worldwide, and on October 13th you can bring the film home on Blu-Ray and DVD. We already brought you all the info about the release, but if you're still on the fence about this particular Proposal, we've got a mess of clips from the film, not to mention some bloopers.
We're Getting Married
Walk and Talk
Getting to the Boat
Take the Dog
Giving Thanks
Bloopers
Image 1 of 6
Image 2 of 6
Image 3 of 6
Image 4 of 6
Image 5 of 6
Image 6 of 6