Raging Bull Pummels Its Way Onto A New Blu-Ray Release This January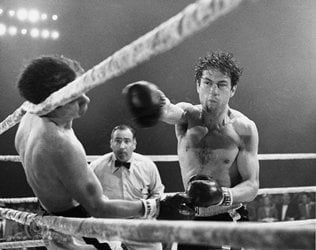 Raging Bull already got a Blu-ray release back in 2009, but now, just a couple of years later, Fox is seizing on the film's 30th anniversary as an excuse to put out a new version. Par for the course when it comes to the DVD world, but is the new version worth your cash when it arrives on January 11th, 2011?
We've got the full rundown of the new Blu-ray 30th Anniversary Edition below, but the first thing to notice is that it will be following the current trend and going the combo-pack route, packaging a DVD copy of the film along with the Blu-ray. It will also include almost an hour of new bonus features, making it a pretty good deal for your thirty bucks, especially if you haven't already picked up the earlier Blu-ray release.
Bonus Features
Disc 1 (Blu-Ray)
Feature Film
New -- Marty & Bobby
New -- Raging Bull: Reflections on a Classic
New -- Remembering Jake
New -- Marty on Film
New -- Cathy Moriarty on The Tonight Show Starring Johnny Carson, March 27, 1981
Raging Bull: Fight Night
The Bronx Bull
De Niro vs. LaMotta
LaMotta Defends Title
Disc 2 (DVD)
Feature Film
Commentary by Director Martin Scorsese and Editor Thelma Schoonmaker
Commentary by Cast and Crew
Storytellers Commentary
Your Daily Blend of Entertainment News
Thank you for signing up to CinemaBlend. You will receive a verification email shortly.
There was a problem. Please refresh the page and try again.