SNL Best Of's Get Revamped Beginning With Belushi And Farley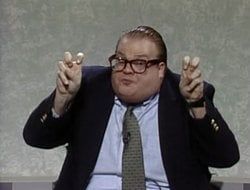 On February 1st, Lionsgate will be releasing new versions of two of the tribute features in the SNL Best Of series. The features chosen to be revamped are John Belushi (SNL veteran '75-'79) and Chris Farley (SNL veteran '90-'95). I was relieved to find out these discs would be a revision rather than a brand new second Best Of video for the two, since most of their culturally relevant and groundbreaking work is included in the original series. Luckily for audiences, the new versions will include the old stuff, along with some newly added material.
The Best Of sets will feature 25 minutes of added skits, including "Samurai Hotel" with Richard Pryor for the John Belushi release and "Schmitt's Gay" and "Weekend Update/Bennet Brauer" in the Chris Farley camp. The biggest overall change will be in DVD cover design, though. The new art is sleeker and lighter than the darkened cityscapes adorning the older boxes. Perhaps it's fitting that Belushi and Farley be the first of the Not Ready for Prime Time Players to be seen in a new light.
Your Daily Blend of Entertainment News
Thank you for signing up to CinemaBlend. You will receive a verification email shortly.
There was a problem. Please refresh the page and try again.