See What's So Funny About Important Things With Demetri Martin On DVD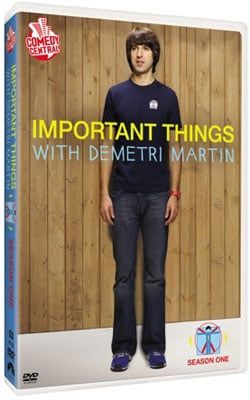 Who's Demetri Martin? It's a valid question, but in another month Demetri Martin may become a household name. Not only does Martin play Elliot Tiber in Ang Lee's upcoming film Taking Woodstock, he also has his own show on Comedy Central, the optimistically named Important Things With Demetri Martin.
Martin hosts the show, which focuses on one particular thing each episode. Using a series of jokes, sketches, cartoons, and musical numbers, he pokes fun at the topic of the episode. The first season's subjects include timing, power, brains, chairs, safety, coolness, and games. If you're wondering how a guy can devote an entire 30-minute show to something as mundane as a chair, you can find out on September 8th when Paramount Home Entertainment and Comedy Central release the first season on DVD.
Martin's straightforward comedic approach to everyday matters is what makes Import Things unique. Rather than fishing through current events for new storylines, Martin focuses on the absurdities of everyday life. The special features list looks to be just as smart and sensible as the show. It includes audio commentary, "Brain Injuries," "Parking Wars Outtakes," "Basketball 1 & Basketball 2," "Cult Leader In Love," "Killing Someone with Kindness," "Killing Time in the Studio," "Dinner with Heroes Outtakes," "A Tiny Guy Helps Find A Contact Lens," "A Yellow Belt Breaks an Awkward Silence," and "Safety Dummy."
The topics Martin opts to discuss may not be very serious, but this DVD is seriously affordable. When it'll only cost you $19.99, how can you pass up 154 minutes of laughs?
Staff Writer for CinemaBlend.
Your Daily Blend of Entertainment News
Thank you for signing up to CinemaBlend. You will receive a verification email shortly.
There was a problem. Please refresh the page and try again.