Shrek The Halls For Christmas This Year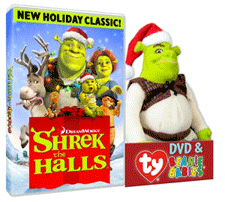 It's what every kid will be asking for on Christmas – Shrek the Halls on DVD. Even though this DreamWorks classic is an animated series, that doesn't mean adults can't fall in love with characters as well. I mean, who wouldn't love the Gingerbread Man?
The made-for-TV 30-minute holiday special generated stellar ratings when it premiered on ABC in November 2007. Shrek even beat out the ratings for "How the Grinch Stole Christmas." I guess I can understand why. Shrek the Halls was voiced by the franchise's typical star-studded cast including Mike Myers, Eddie Murphy and Cameron Diaz. On top of that, who wouldn't want to see their favorite animated characters celebrate the joys of the most wonderful time of year? Hmm, maybe the giant green ogre? Shrek is having a hard time getting into the holiday spirit with his new family, but his pals help to make his first Christmas a truly unforgettable one.
If you think you can already hear your children, little brothers and sisters or even yourself begging for this DVD, wait, because it's about to get much more intense. In addition to the holiday special, you'll also get interactive holiday-themed bonus material, which includes "The Twelve Days of Christmas" and " Deck the Hall" sing-a-long with the gang from another DreamWorks Animation hit, Madagascar. You also get Gingy's Dunking Game, the Shrek Carnival Craze video game demo and cheat code and the DreamWorks Animation Video Jukebox. What more could a kid ask for? Oh wait, I know. A stuffed animal! The limited edition holiday packages will either be accompanied by a plush Holiday Shrek, Holiday Puss, Holiday Donkey or Gingy.
If you can't wait until the holidays to watch Shrek the Halls at home, you won't be up chocolate creek without a Popsicle stick. You'll be able to pick it up in stores on November 4th. Check out the DVD art below.
Your Daily Blend of Entertainment News
Staff Writer for CinemaBlend.