The Slumdog Millionaire Box Office Shines As Bright As The Film On Oscar Night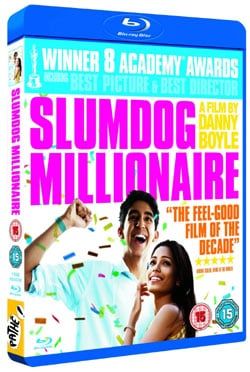 Which is true of the film Slumdog Millionaire: A, It won eight Academy Awards; B, It was released in the US on DVD and Blu-ray on March 31st; C, It's worth buying a second copy when the UK version is released on June 1st; D, All of the above? I'm picking D. Computer-jet, A lock kiya-jaye!
Jamal Malik (Dev Patel) has gone from being an orphan in the slums of Mumbai to sitting in the contestant's chair on the Indian version of Who Wants to Be a Millionaire going for the grand prize, 20 million rupees. Before Jamal can answer the question the buzzer sounds and the show must end for the night. As Jamal leaves the studio he is apprehended by the police and accused of cheating. Through stories from his past, he explains to the officers how he answered each and every question correctly.
If you buy just one film on DVD or Blu-ray this year, I hope it's Slumdog Millionaire. If you buy a second, I hope it Slumdog Millionaire, the UK version. Not only is the story of Jamal utterly compelling, but the format in which it's told captivates you in an innovative way. Dramatic and heart wrenching scenes are intertwined with quips and amusing instances creating a wonderful mix of sensations that you'll surely enjoy.
Yes, I know; if you're as big of a fan as I am, you already own a copy of Slumdog Millionaire on DVD or Blu-ray. While the discs inside may contain the same material, it's what's on the outside that makes this version so outstanding. Check out those neon colors! What better way to make a movie better than the rest, look better than the rest on the shelf than to come out with some eye-catching box art? For the sheer fact that this box would look awesome on my shelf and because I'd like to support a great film in anyway possible, I might be adding a second copy of Slumdog Millionaire to my library.
This version of the film hits the streets in the UK on June 1st. It'll cost £19.99 for the DVD £24.99 for the BD, which comes out to about $22.28 for the DVD and $27.85 for the BD. That's chump change for a guy who just won 20 million rupees.
Staff Writer for CinemaBlend.
Your Daily Blend of Entertainment News
Thank you for signing up to CinemaBlend. You will receive a verification email shortly.
There was a problem. Please refresh the page and try again.