Watch Jackie Chan Teach Jaden Smith Kung Fu In A DVD Called The Karate Kid This October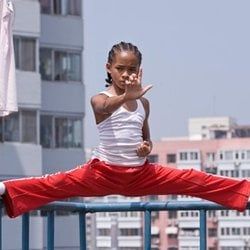 Studying kung fu for any upcoming trips to China? If so, you couldn't ask for a better mentor than Jackie Chan. Hell, even if he can't teach you to defend yourself, he can definitely give some tips on how to recover from broken bones and crippling soft-tissue injuries. But please, if Jackie goes to all the trouble of training you, could you at least remember the name of the martial art he's teaching you when you get around to titling the movie about your experiences? Maybe in the sequel, Jackie will teach Jaden Krav Maga.
All nitpicks about the title aside, The Karate Kid seems to have at least tried to put its own spin on the 1984 original. If you can't get Pat Morita -- and outside of some high-level necromancy, he's unavailable -- Jackie Chan is a perfectly acceptable 21st-century Miyagi, and the film received generally positive reviews. Fans both old and new will be able to bring home the 2010 incarnation of The Karate Kid on Blu-Ray, DVD, and as a Combo Pack this October 5th from Sony Pictures Home Entertainment. You can check out the special features below, or you can just click over here and watch an even more entertaining bit of Karate Kid-related entertainment.
DVD
Feature Film
Interactive Feature: Chinese Lessons
Just for Kicks: The Making of The Karate Kid
Music Video: Justin Bieber's "Never Say Never," featuring Jaden Smith
Blu-Ray Combo Pack
Disc 1 (Blu-Ray Disc)
Feature Film
Interactive Feature: Chinese Lessons
Just for Kicks: The Making of The Karate Kid
Music Video: Justin Bieber's "Never Say Never," featuring Jaden Smith
Alternate Ending : Watch Jackie Chan Fight!
Interactive Feature: On Location: The Karate Kid Interactive Map of China
Production Diaries Hosted by Jackie Chan
movieIQ+sync
PS3 Wallpaper Theme
Digital copy of the film for the PSP
Disc 2 (DVD)
Feature film
Digital Copy of the film for the PC, Mac, or iPod
Your Daily Blend of Entertainment News