If Drew Goddard and Joss Whedon set out to demonstrate just how fun the horror genre can be when they made Cabin in the Woods, they succeeded admirably. Those looking for a full-on horror film will be surprised (and possibly disappointed) by what Cabin has to offer, but fans of the genre and of Whedon's clever style of writing are likely to appreciate what they've done with this film, which is as much a tribute to horror films as it is a scary movie. Written by Goddard and Whedon, and directed by Goddard, The Cabin in the Woods begins in standard horror fashion, as a group of college friends take a trip into the woods to spend their weekend hanging out. Little do they know, they're in for a really bad time. As Cabin is a film best watched without knowing too many specifics on the plot, I'm going to pause here for a spoiler warning. If you haven't seen the movie yet, the spoiler-free version of this review is that Cabin is a clever take on the horror genre, with equal parts humor and scares, great characters and a plot that offers a few surprises and numerous payoffs in its final act. If you're expecting something really scary and gory, you may be in for a disappointment, but Cabin is about so much more than blood, scares and violence. If you're looking for a more in depth spoiler-free take on the film, check out our theatrical review here.
And this is the official spoiler line. Read on at your own risk!
The Cabin in the Woods was promoted as a horror movie with a twist, and the movie delivers on that from the start, as there are two sides to this story. We're introduced to college students Dana Polk (Kristen Connolly), Curt Vaughan (Chris Hemsworth), Jules Louden (Anna Hutchison), Holden McCrea (Jesse Williams) and Marty Mikalski (Fran Kranz). They set off to embark on a fun weekend at a secluded cabin in the woods and end up unknowingly wandering directly into their very own horror movie-scenario, where each of them plays a pre-determined scary movie archetype. The stage is set well for those of us who know how this formula works. And we know it's just a matter of time before some horrible thing is unleashed upon them. We just don't know what.
While the college kids are goofing off and partying, we see that they're being observed and manipulated by a group of technicians below ground, who are treating the whole situation like one huge and organized operation. Enter the lab coat wearing Wendy Lin (Amy Acker), and the head honchos (Richard Jenkins and Bradley Whitford) running the branch. Some of what's going on underground is explained to us, thanks to Daniel Truman (Brian White) being new on the job and observing the operation from an outside perspective. However, trying to understand what's happening is part of the appeal.
Found footage is the current trend for horror, and having written Cloverfield, Drew Goddard has some experience in that area. Cabin takes a different approach to the classic formula involving young people being picked off one by one by some kind of monster. Rather than taking the found-footage approach, the film's lab experiment-like operation offers a more refreshing view on an intentional formulaic horror scenario. The format often pulls us out of the fray, making it a bit harder to stay in scared-mode, but that's sort of the point. It's not a parody of horror movies, but there is a steady trickle of humor woven into the plot that comes at the expense of the tension. Cabin isn't trying to be the scariest movie you've ever seen. If anything, it's more of a tribute to scary movies than an all-out bloodbath, with a few surprises lurking around every corner, and a third act that delivers the goods. It's evident that Goddard and Whedon are horror fans and are trying to celebrate horror.
When I saw Cabin in the theaters, I left with a five-star impression of the film. I loved it. I loved the characters and the writing. I loved the humor. I loved the scary moments and I loved the ending. And I immediately wanted to watch it again, wondering how the film would hold up in a second pass. Would knowing the "twist" change my impression of it? I'll admit, it does lose a little something in the re-watch, which is why I wouldn't give it a full five stars. For those who like this movie, the film may not be as good as it was the first time through. But it does hold up really well, and the final act is particularly great in repeat viewings. Cabin in the Woods ranks up there with some of the best movies to hit theaters in 2012, and it's well worth owning. The Cabin in the Woods Blu-ray doesn't disappoint. It comes packaged in a cardboard sleeve with a hologram cover featuring the Rubik's-cube-like cabin art, that, when turned, reveals a monster in each cube. The Blu-ray comes with a digital copy and Ultraviolet for those who want to download or stream the film to their computer or compatible portable devices. Bonus content includes a commentary featuring Drew Goddard and Joss Whedon, "It's Not What You Think: The Cabin in the Woods Bonus View Mode," the Wondercon Q&A panel, and various "Making Of" featurettes, which look at the production of the movie. Those interested in seeing what went into the making of this movie, from numerous angles (writing, casting, visual effects, etc) should be more than satisfied by what the Blu-ray has to offer.
"We Are Not Who We Are" is more of a general behind-the-scenes look at the movie, and features Whedon and Goddard talking about developing the project together. There's also a segment that has the cast hanging around on set, and another that features Bradley Whitford and Richard Jenkins giving us a little tour of the control room. Those interested in a few more amusing details about Marty's habitual pot smoking will appreciate Fran Kranz in the "Marty's Secret Stash" feature. The amount of thought that went into Marty's pot smoking is amazing. Then again, it did prove to be a pretty notable plot point in the movie, so I suppose it warrants its own bonus feature on the Blu-ray. This feature also includes the "Hi My Name Is Joss" featurette, which has Whedon giving us a tour of the cabin.
"An Army of Nightmares: Makeup & Animatronic Effects" and "Primal Terror: Visual Effects" both offer some interesting looks on the process of designing the monsters, working on the special effects make-up and the puppets, as well as the visual effects, which are a mix of CG and practical effects. The visual effects featurette offers some great behind-the-scenes looks at the creature moments, and obviously plenty of trivia on the elevator bank scene and the carnage in the final act.
And finally, the commentary and "It's Not What You Think" Bonus View mode offer two alternative ways to watch the movie. Goddard and Whedon are both amusing guys and they converse well with one another, so the commentary is great and full of interesting anecdotes about the making of the movie, including the decision for Goddard to direct, casting people they love (Amy Acker, Tom Lenk) and finding the right people for the lead roles. As for the BonusView feature, I'm not a huge fan of picture-in-picture features. I have a much easier time watching something and listening to something else (via a commentary) than trying to watch two different things happen on screen.
There's a wishlist of things I would have liked to see (like an interactive monster app), but overall, what the Cabin Blu-ray does offer is more than satisfying for those of us who loved the movie and want to know as much as the cast and crew are willing to reveal.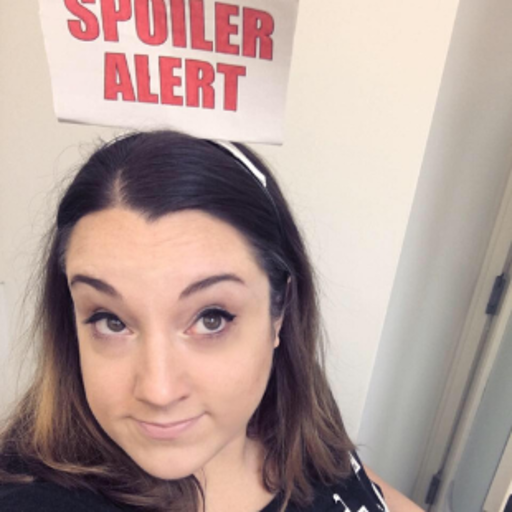 Assistant Managing Editor
Kelly joined CinemaBlend as a freelance TV news writer in 2006 and went on to serve as the site's TV Editor before moving over to other roles on the site. At present, she's an Assistant Managing Editor who spends much of her time brainstorming and editing feature content on the site.