12 Days Of Christmas: Konami Code Memories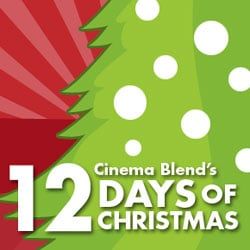 It's time to celebrate the Christmas/ Chanukah/ Kwanza/ Festivus Holiday season, so all around Cinema Blend we're enjoying Twelve Days of Christmas. Yes, we know traditionally the "12 days" start with Christmas, but we plan on being celebrated out by that time, so we're pushing the twelve days leading up to the holiday.
Here in Blend Games we're celebrating by counting down by reliving some of our favorite holiday gaming memories, in an effort to boost your Christmas spirit. There's nothing quite like finding a new game console under the tree. So without further ado:
On the fourth day of Christmas, my true love gave to me…
the red (Falcon) and green (Forest Level) colors of Christmas.
All of the doorknobs in the house were ice cold for some reason, really. Even the ones inside. It was as if the December cold had figured out a way to get the last laugh as dozens of relatives popped through the doors and shuffled and gabbed and ate their way through our annual Christmas reunion. We're a big family mind you, not big like we can't fit through doorways or properly lean over a stove kind of big—but the kind that needs a big ass house to fit all of us. There were aunts and uncles at every corner, grandparents parked on the couches and of course, new boyfriends/girlfriends/fiancés every year who would try and make time for us little kids and show off how much they love children.
Outside of the holiday season, it was a tumultuous time in my middle-school life: I still hadn't gotten over the loss of Crystal Pepsi, my clothes from Kohl's were beginning to show their age and I was becoming more and more jaded at the fact that I still didn't own a shiny new Sega CD like many of my friends. But Christmas was a time when all was right with the world.
I knew this because I got to spend hours with family and the people I cared about, doing what I loved to do best—blowing up a ton of little sprite soldiers in Thundercade, trying to outrun the shark in California Games and battling the giant football player-looking endboss in the 'Hanger' level from Contra.
Between mingling with the relatives upstairs, there was a good ten or fifteen of us crowded down in the basement at any given time—only about a third of my cousins. We would all take turns on the games and rotate between the air hockey table, the computer (which had a fancy game called Myst that I wouldn't try for another four years) and the pool table. Even so many years ago, I knew that when I got that job designing Transformers in a candy factory run by Sandra Bullock and Jenny McCarthy for an overseas job that would have me parachuting to work everyday, I was going to have a games room exactly like this one to be able to relive these moments whenever I wanted.
Of all the games at the house, none was more played, beaten and replayed than the original Contra for NES. 'Twas an annual tradition to get into those red or blue leather pants, slap on a Konami code, grab a plate full of cookies and blast our way through to stop Red Falcon. Sure, there were sore moments when someone would "accidentally" steal the Spread Gun power-up, but all was forgotten and the camaraderie returned once we heard that familiar end-level jingle as Bill and Lance jogged to the next level.
By the end of the day, the game was probably played through at least a good seven or eight times by various cousins and myself—a true testament to this solid gaming classic.
The Contra tradition still exists today in fact, although we've all gotten older and not all of us are always able to be back for the holidays, at least one game is always played on the now-discolored and grimy old NES. The Konami code still clicks through on the old controllers, the pseudo-3D Base levels are still god-awful frustrating and we're always still a little underwhelmed by the game's actual ending. But in the season of being closer with family and doing things together, it's hard to beat toppling an alien menace, saving the world and still having presents to look forward to.
Happy Holidays, readers.
Read all of Cinema Blend's 12 Days of Christmas features in other sections by clicking here.
Your Daily Blend of Entertainment News