New Leak Indicates There Might Be A Devil May Cry 5 On The Way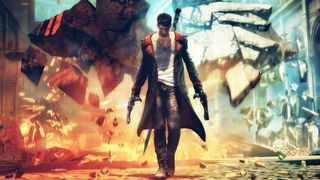 Since the last Devil May Cry game, a non-traditional take on the series called DmC: Devil May Cry, fans have been demanding another game in the style of classic Devil May Cry games, and the developer may have just answered their cries. A recent listing on a resume suggests there's another Devil May Cry game in the works.
The resume lists it as Devil May Cry 5, indicating there might be another game coming after the last. The classic franchise left off at Devil May Cry 4 where Nero is on a quest to stop Dante, and the player switches from controlling Nero in-game to controlling Dante for a few missions.
As reported by Rely On Horror, Actor Nils Hognestad (Supernatural, Once Upon A Time) listed the position on his resume as a project for voice work, and he's even cast as the lead. So it's possible this could be the new Dante. It's no surprise that if you get a glimpse of the resume now, the listing has been removed, a pretty positive indication that we were on to something.
Surprisingly enough, I didn't play any of the Devil May Cry games. The first game I did play was the most unusual of them all, DmC: Devil May Cry---and I absolutely loved it. The soundtrack was aggressive and angry, Dante was young and douchey and I hated myself for liking him. It was a sentimental sort of love-hate. And I loved the style of gameplay. So I'm sure I'll enjoy not only the classic Devil May Cry games, but also this mysterious new sequel.
Hopefully we will be able to learn more at next week's Electronic Entertainment Expo, but there hasn't been any indication that Devil May Cry 5 will be present at E3. But the week of E3 is a magical time for developers to reveal secrets we never even knew were coming. So maybe this just might be one of those secrets. To see the full resume as it is now, you can visit it here.
Your Daily Blend of Entertainment News
Thank you for signing up to CinemaBlend. You will receive a verification email shortly.
There was a problem. Please refresh the page and try again.