Snag This Rare Mythical Pokemon For A Limited Time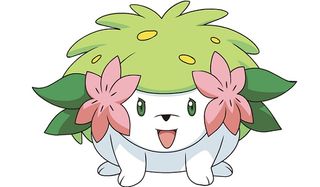 Pokemon's 20th anniversary celebration continues this month with yet another mythical critter for players to collect through minimal effort. Get ready to add Shaymin to your Pokebank throughout the month of July.
As you may recall, The Pokemon Company and Nintendo have joined forces to commemorate all things Pokemon for the celebration of the series' second decade of astronomical success. They've commissioned pieces of art for the year-long event, released the original Pokemon games onto the eShop and, along with the upcoming Pokemon Sun and Moon, will soon give players a chance to catch 'em all in the real world through upcoming mobile game, Pokemon Go.
And if all of that isn't enough, they're also giving away a free mythical Pokemon every month through various means, usually by either booting up a copy of the game and simply downloading the critter or dropping by places like GameStop to pick up a code.
This month's entry in that growing collection is the adorable Shaymin, who looks like a mix between a hedgehog and a flowering plant of some sort. To get newcomers familiar with Shaymin, Nintendo has now launched a trailer showing off its sweet moves.
As you can see in the trailer, Shaymin has a bunch of handy moves at its disposal. To get your hands on one of these helpful Pokemon, simply boot up your copy of either Pokemon X, Pokemon Y, Pokemon Omega Ruby or Pokemon Alpha Sapphire and get to downloading. It's that easy. You've got between now and July 24, so don't feel like you have to rush or anything.
As for that little bit of breathing room between July 24 and June 1, The Pokemon Company has left it empty for a few months this year and has also taken the opportunity to drop in some additional rare Pokemon gifts for a limited window. We'll just have to wait until the end of the month to find out if there's anything else in store for trainers this July.
This mythical Pokemon givaway started back in February with the beloved Mew. Celebi was next to arrive as a free gift, followed by Jirachi, Darkrai and Manaphy. After Shaymin's window has closed, you'll have Arcenus to look forward to later this year, alongside Victini, Keldeo, Genesect and Meloetta.
Speaking of all of those free Pokemon, are there any that you've been especially happy to receive this year? Any you're really looking forward to in the coming months? Let us know in the comments section below.
Your Daily Blend of Entertainment News
Staff Writer for CinemaBlend.