Indian Horror Game Dear Charlotte's First Trailer Is Horribly Unsettling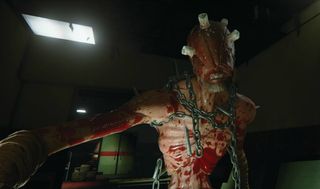 Sometimes when horror games follow a trend, they fall into a tedious, repetitive pattern until the horror is no longer a surprise, but predicted and expected. But for one Indian independent developer, they've managed to capture an essence of horror games that were thought long lost. You can see Dear Charlotte's first trailer below.
Dear Charlotte will be released in episodes, and while developer Method To Madness Studios realizes there have been other survival horror games similar to it, they like to believe their story sets them apart from the rest. Narrative Designer Joel Zachariah put the unique story into perspective, saying,
Dear Charlotte is set at a lab called Quantic Medical Research Facility. After the outbreak of some kind of bacteria, the facility becomes a mad house and you are saved by Dr. Kremlin. While Dr. Kremlin may seem like he has good intentions, it's possible he might just be the cause of all of the horror.
What really drew me in after watching this trailer was the return of creatures in survival horror. In Silent Hill, it was all about the hellish, nightmarish creatures. But in recent games, it's more about the paranormal and the jump scares. Although this game does feel a little like Outlast (one of their inspirations), I feel like it might play a little better than Outlast. As long as I'm not stuck on the last level outside in the dark without a means of getting more batteries for my camera, I think it'll be a positive experience.
While there's no release date set for the game yet, you can visit Method To Madness Studios' official website to stay up-to-date and get more information.
Your Daily Blend of Entertainment News
Thank you for signing up to CinemaBlend. You will receive a verification email shortly.
There was a problem. Please refresh the page and try again.