How Much The Pokemon Go Accessory Is Selling For On Ebay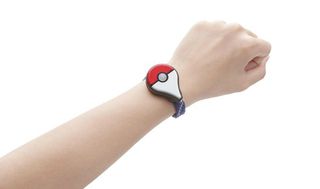 Fans of Pokemon Go have probably heard by now that pre-orders for the Pokemon Go accessory has been entirely sold out. But, there is still a way to get your hands on the item: eBay.
But don't expect eBay to be selling the accessory for cheap. Those who have pre-ordered the Pokemon Go Plus for when it's available have taken to eBay to sell their pre-order. And prices have started at $100 and go up from there. We managed to see someone selling the Plus for $475, a guaranteed pre-order, it said.
It's no surprise that players are taking to eBay to sell their pre-orders and try to make some money off of the incredible hype that's been sweeping across the world.
But what's so special about the Pokemon Go Plus accessory and why are people paying hundreds of dollars to try and get their hands on it?
The Pokemon Go Plus device is an add-on to the mobile game, Pokemon Go, and it retails at $34.99. The device can be worn as a bracelet, and if you didn't notice by the pictures, it's in the shape of a Google Maps pin yet looks like a Pokeball. The device uses bluetooth to connect to your Pokemon Go app and alerts you when you are near a Pokestop, Pokemon eggs or approaching Pokemon. And what's valuable about this is you don't have to waste battery life staring at your phone and watching for Pokemon to appear. Pokemon Go has been deemed for draining phone battery life, so it's no wonder this device is so incredibly valuable.
It almost makes you wonder if the team over at Niantic Labs made the app drain battery life on purpose just so the release of Pokemon Go Plus would be that much more valuable. It's a clever tactic, and not being a developer myself, am not even sure if that's possible, but it certainly is something to think about.
Having a Mophie case has saved me from the detrimental effects of Pokemon Go draining my battery, but I've noticed that I've had to switch on my charging for my case quite a lot when playing. I've never really run out of battery, but I've had my Mophie case save me a number of times after playing for a couple hours. While the device certainly helps with this problem, I kind of get a kick out of watching for Pokemon nearby and tracking them. For me, it's part of the fun, so I'm not sure if I'm going to invest in the Pokemon Go Plus device.
But I highly recommend instead of risking it to buy a Plus device on ebay for well over the retail asking price, just wait until it comes out. Even if people try to act legit on eBay, Pokemon Go is in such demand that people will do some crazy things to make money.
According to GameStop, the Pokemon Go Plus will be releasing on July 31, so you won't have to wait too much longer to try and snag one.
Your Daily Blend of Entertainment News
Thank you for signing up to CinemaBlend. You will receive a verification email shortly.
There was a problem. Please refresh the page and try again.