Adr1ft Won't Be Coming To PlayStation VR, Get The Details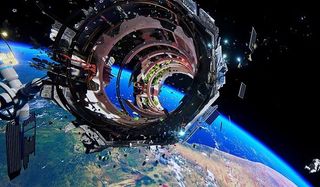 If you've ever wanted to feel like you were exploring an abandoned space station, then Adr1ft, though poorly spelled, is the game for you. It just launched on the PlayStation 4 today but, sadly, it sounds like the game won't be available for the PlayStation VR.
Folks first got their hands on Adr1ft earlier this year when the game launched for PC and, more importantly, the Oculus Rift. Sure, you could play Adr1ft on a monitor, but the only way you could really get a true feel for the game's white-knuckle tension was to experience it from a true first-person perspective.
You know that movie Gravity, where the real horror of the film was the vastness of space? Well, Adr1ft is a lot like that. The game utilizes its setting perfectly, making the player feel isolated and exhilarated at the same time, especially if you were doing all of that exploring with a VR headset strapped to your head.
Unfortunately, Game Informer is reporting that the Adr1ft development team, 505 Games, have stated that they have no plans to make the game playable on PlayStation VR, Sony's upcoming headset for the PlayStation 4.
Adr1ft launched today on the PlayStation Network and is already getting some critical praise. That makes this news sting even more, as it sounds like PS4 fans won't be able to enjoy Adr1ft from "within" the game.
So now the question remains, why isn't Adr1ft coming to PSVR? Is there some sort of weird VR exclusivity tied to the Oculus headset or could it be the fact that, despite being a fantastic piece of hardware, the PSVR doesn't quite stack up to the rigs available for PC gaming?
Motion sickness is a real concern when it comes to gaming in VR, and you need to be able to hit a pretty high benchmark if you want to keep some players from feeling sick. If the PSVR simply can't handle Adr1ft at a quick enough clip, the developers may have simply decided not to risk upsetting (the stomachs of) all of those gamers.
Still, just because it's not going to be playable on Sony's VR headset doesn't mean it isn't worth your 20 bucks. You might want to give it a gander if you've got the weekend free. But even without Adr1ft, it isn't like you'll exactly be starving for content when the device finally launches on Oct. 13. Sony has stated on multiple occasions that it has 50 VR games in its stable, ready for launch. From minigame collections to fleshed out romps, there will be a little something for everyone when the next phase of PlayStation entertainment finally arrives.
And considering how well the thing has sold this many months before its official launch, we figure it will have an install base big enough to encourage developers to keep coming back for more.
Staff Writer for CinemaBlend.
Your Daily Blend of Entertainment News
Thank you for signing up to CinemaBlend. You will receive a verification email shortly.
There was a problem. Please refresh the page and try again.