The Los Angeles Zoo Is Hosting Its Own PokeWeek, Get The Details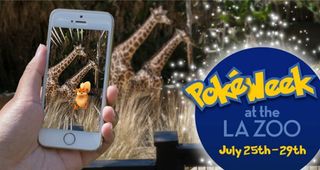 (Image credit: LA Zoo)
It's no surprise that most of the country has Pokemon Go Fever, and that includes businesses that have no relation to gaming whatsoever. We've reported on pizzerias taking advantage of the game as well as humane societies using it for a good cause, but now the LA Zoo is jumping on the bandwagon to get their community involved.
Starting on July 25, the Los Angeles Zoo will be hosting what they call a PokeWeek. According to the LA Zoo, this means that each day during PokeWeek, the LA Zoo will drop Lures on their 45+ PokeStops and share the locations of the Lures on Twitter. If you want $2 off admission after 2 p.m., then just show your Pokemon Go app when you go to buy tickets. Also, the Safari Shuttle will be helping Pokemon Go Players hatch their eggs by bussing them around the zoo, and the shuttle will also stop by PokeStops so you can fill up while you hatch your eggs. And maybe the biggest perk of them all, if you take pictures of your Pokemon Go adventures at the zoo and post them on Twitter with the hashtag "#LAZooPokeWeek," then you're entered to win a year-long Zoo membership.
LA Zoo makes sure to note on their website that there are so many PokeStops in the zoo, you'll never run out of Pokeballs to catch Pokemon with, and says that their PokeStops are generally located near animal exhibits and works of art.
And if you're feeling gutsy, you can try and claim one of the three gyms located at the zoo. But be aware, because of the high volume of Pokemon Go players that might be at the zoo at the same time, there is bound to be a ton of players battling for a gym at the same time, so don't expect to keep a gym for long. But hey, the more times you battle for a gym, the more XP you'll gain.
Please note that the shuttle to help players hatch their eggs is not free; it costs $4 for adults and $2 for children, and $1.50 for seniors. But that doesn't change anything, because Pokemon Go was meant to be played on foot and by walking and exploring. So it's no big deal if you don't want to dish out the extra cash for a slow-moving shuttle ride.
Keep in mind, in the summer in Los Angeles, the heat can get unbearable with temperatures reaching into the low 100's. If you're taking a day at the zoo, make sure you bring sunscreen and stay hydrated.
The PokeWeek event will run from July 25 to July 29. For more information on LA Zoo's PokeWeek and the sweepstakes, you can visit their official website.
Your Daily Blend of Entertainment News