Bethesda Is Throwing Some Serious Shade At Sony Regarding PS4 Mod Support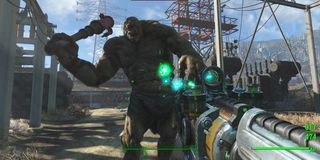 (Image credit: Bethesda)
There have been some major head-butting going on between both Sony and Bethesda over user mods being implemented into the PS4 versions of Fallout 4 and Skyrim. Well, now Bethesda is laying down the gauntlet, calling out Sony and even throwing some serious shade at them regarding PS4 mod support.
Over on the official Bethesda website, they have a short post updating PS4 gamers as to why they aren't receiving mod support for Skyrim and Fallout 4, stating...
So what exactly is the hold-up on Sony's end? Why have they gone over and beyond to make life hard for Bethesda when all they want to do is put mods on the PS4 versions of Skyrim and Fallout 4? Well, it's a bit more complicated than simply Sony turning up their nose at the makers of The Elder Scrolls. There are some technical limitations involved that Sony may not want to put an official stamp of approval on.
For instance, back in July it was reported that the reason for the hold-up with mod support in Fallout 4 was due to memory allocation issues. Game Rant reported that the user mods for Fallout 4 on PS4 would have to be limited to only 900MB.
Now keep in mind that the Xbox One currently allows for user mods that extend up to 2GB. This means texture mods, model mods, weapon mods, map mods and anything else approved within 2GB are allowed on the Xbox One. For PC gamers 2GB is nothing, and you can fill that up pretty easily. But even still, 2GB is a heck of a lot more than only 900MB. But it doesn't end there.
The Game Rant article also goes on to inform readers that during some of the tests for the Fallout 4 user mods on PS4 it was revealed that there were massive memory and performance issues, as well as problems with the sound. These issues were also compounded with reports of the PC textures not showing up properly for some custom mods being imported into the PS4 version of the game.
Ultimately, if user mods on Fallout 4 for the PS4 turned out to be a poorly performing and limited iteration of what you would get on the Xbox One, then I could easily see Sony not willing to pull the trigger in allowing Bethesda to enable user mods on the PS4.
Sony might be trying to cut their losses in terms of mind share, which could obviously help hamper sales of the PS4 if word spread around that the PS4 doesn't perform very well when it comes to user mods. Not having the feature at all at least prevents them from being dragged through the mud as having a poorly performing feature in comparison to the Xbox One. Even still, it's still a lose-lose situation for PlayStation 4 owners because no matter how you slice it they still don't get to experience user mods in Fallout 4 or Skyrim.
Your Daily Blend of Entertainment News
Staff Writer at CinemaBlend.
Your Daily Blend of Entertainment News
Thank you for signing up to CinemaBlend. You will receive a verification email shortly.
There was a problem. Please refresh the page and try again.