Pokemon Sun And Moon Are Each Getting An Ultra Beast, Check Them Out Now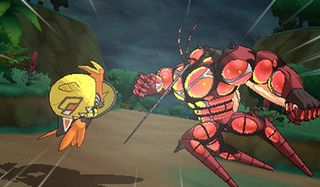 The Pokemon Company today provided some additional details on Ultra Beasts, which will offer some tough encounters in upcoming Pokemon Sun and Moon. The developer announced that these baddies will pose some sort of threat to the Alola region, revealing a brand new trailer to show a pair of the monsters in action.
Last week's Pokemon Sun and Moon update presented something of a mystery to series fans. It acknowledged the existence of "Ultra Beasts" and displayed what appeared to be a massive jellyfish-like creature, but that was about it. Today's update offers a bit more information, as well as a look at a couple of Ultra Beasts that will be specific to their own version of the upcoming game.
According to today's update for Pokemon Sun and Moon, the Alola region will be under attack by a collection of beefed-up baddies while players make their way from gym to gym, collecting pocket-sized monsters and training to be "the very best."
Last week's monster is simply known as UB-01. Today's reveal is for two versions of UB-02, known as Absorption and Beauty. While their "numbers and purposes are not known," the announcement states that additional Ultra Beasts are expected to be revealed in the coming weeks.
For those of you trying to decide which version of the latest Pokemon you plan on getting, UB-02 Absorption will be available on Pokemon Sun while UB-02 Beauty is all about living the night life in Pokemon Moon.
Absorption is just about the brawniest Pokemon to date and he looks like a mix between a crazed body builder and a mosquito. He apparently punches super hard and uses that diamond-strong mouth for additional attacks and abilities.
Beauty also looks like an insect, specifically a super fashionable grasshopper. She apparently moves super-fast and has an ability that makes other Pokemon lose the desire to fight, regardless of gender.
That's about all the new info we have this week for Pokemon Sun and Moon but, with about two months before its launch here in the States, we're expecting plenty more details between now and November 18.
At this point, the latest Pokemon game is certainly working to impress the crowd. It's frequently assumed that all Pokemon games are the same, but it looks like this latest iteration is doing more than ever to set it apart from the crowd. Along with region-specific Pokemon and these new Ultra Beasts, it looks like Sun and Moon will boast all sorts of new functionality, mini-games and even a photography mode that reminds us of the beloved Pokemon Snap.
Stay tuned for more details as they become available.
Your Daily Blend of Entertainment News
Your Daily Blend of Entertainment News
Thank you for signing up to CinemaBlend. You will receive a verification email shortly.
There was a problem. Please refresh the page and try again.