When Nintendo Is Holding A National Street Pass Weekend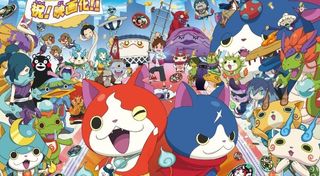 (Image credit: Nintendo)
Nintendo has a StreetPass weekend on the horizon. It will be a national event that takes place across the country here in the U.S. The event will be held in honor of Yo-Kai Watch 2, which has become quite the sales phenomenon for Nintendo both in Japan and abroad.
Siliconera is reporting that the StreetPass weekend will get underway next week starting September 30th. It will only run through that Saturday on October 1st. The event will allow players to gain StreetPasses by visiting Nintendo Zone locations. Passing by other players gaming in Yo-Kai Watch will allow gamers to grab up a Yo-Kai and keep them within the game's inn after performing a StreetPass. The idea is to encourage players to connect with other Yo-Kai Watch players and embrace the game's connectivity features.
This seems to fit in line with a lot of what Nintendo does, especially recently with the introduction of mobile apps like Miitomo and the uber-popular game from Niantic Labs, Pokemon Go. In each of those titles it's about connecting with others, bridging friendships and even getting out of the house and getting some exercise while also gaming. Quality of life features have always been an important part of the Nintendo brand, and they've always put in a lot of time and effort into finding ways to get people to connect in one way or another. Having people partake in the StreetPass event to possibly get their hands on some no Yo-Kai in Yo-Kai Watch 2 is an excellent way to raise some awareness of both Nintendo's 3DS and the game.
Siliconera also reports that the StreetPass event will coincide with Dragon Quest VII: Fragments of the Forgotten Past. By passing by players of the game it's possible to trade the Traveller's Tablets with them.
I do wonder how long the StreetPass will still be a thing? It seems like it's been around long enough to have run its course and the Nintendo 3DS seems like it should be on the way out as far as hardware cycles are concerned. The real question is if Nintendo will keep the StreetPass in some capacity when the 3DS is finally retired?
We could potentially see something new when the Nintendo NX launches next year in March. Nintendo has mentioned that the NX wasn't designed to replace the Wii U and 3DS, but if the rumors are true that the device will be a hybrid between a portable gaming machine and a home console, I don't see how it won't replace both the 3DS and the Wii U. If it does happen to be a replacement, then it definitely calls into question exactly what the new kind of StreetPass will be or if it will have one at all?
As for Yo-Kai Watch 2... the ghost-collecting RPG should see a nice little uptick in usage next weekend when the StreetPass event gets underway at the designated Nintendo Zones throughout the nation. A lot of gamers will be able to add a little something extra to their gameplay experience thanks to the event.
Staff Writer at CinemaBlend.
Your Daily Blend of Entertainment News
Thank you for signing up to CinemaBlend. You will receive a verification email shortly.
There was a problem. Please refresh the page and try again.