Pokemon Go Halloween Update: Here's What Bonuses Are Coming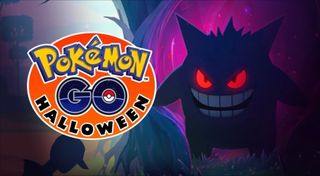 (Image credit: Niantic Labs)
Niantic Labs will be giving Pokemon Go players plenty to sink their teeth into come Halloween apart from just the sweets and candy that will be acquired while out trick or treating. The new update for the mobile game features a few Pokemon-specific bonuses.
Special Halloween event: The event will take place between October 26th and November 1st.
Rare Pokemon drop rate increased: psychic and ghost types will appear more frequently.
Candy drop rate increased: More candy will drop and will be available at Pokestops.
The new video is only 30 seconds and was posted up over on the Pokemon Go YouTube channel. The short but sweet update starts with a quick glimpse at Gengar in the background before giving gamers a look at a 3D rendition of Haunter in Pokemon Go.
Niantic Labs announced that between October 26th and November 1st, gamers would be able to get their hands on select, rare Pokemon, such as Haunter and Gengar more often than usual. They also reveal that Zubat and Gastly will also be among the rare ghost-type Pokemon that will come out more often than usual.
Additionally, psychic types like Drowzee and Hypno will also be available in greater abundance for a limited time in Pokemon Go considering that ghost types and psychic types are very similar in nature and how they can be defeated.
But rare Pokemon being made available in a frequent manner isn't the only thing that Niantic is doing. They're also increasing the candy rewards that drop for the game. This will give gamers more incentive to head outside and scour the surrounding areas for new Pokemon or rare Pokemon.
The update will likely work well with the Halloween festivities as a bunch of kids will likely want to head outside and scrounge up some candy and Pokemon all at the same time.
The funny thing about it is that this seems a little risky given that there are always reports about people playing Pokemon Go and either getting robbed, hit by cars, falling from high places, accidentally running into cop cars or engaging in some other activity that either gets the law involved or makes headlines.
I'm a little surprised they didn't warn people not to go out too late. Instead, as you can see below, the trailer only covers the candy drop rate being increased, and the ghost and psychic types appearing more frequently.
I'm sure they'll have a PSA up on the official website at some point to inform users to be careful when out trick or treating while playing Pokemon Go. The last thing they need is to make headlines for some ridiculous thing happening while people are out on Halloween night while trying to get their hands on some sweet candy.
Pokemon Go is available right now for iOS and Android devices and the Halloween event will get underway in just a couple of days.
Your Daily Blend of Entertainment News
Staff Writer at CinemaBlend.