Star Wars Battlefront's Last DLC Adds Rogue One-Inspired Content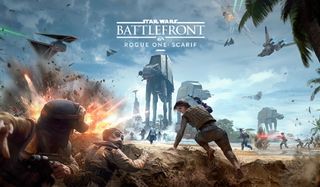 It's been a big year for fans of Star Wars Battlefront, but the developers aren't done with the third-person shooter set in a galaxy far, far away just yet. In just a couple of week, the final piece of the DLC season pass will arrive and, among other things, it will give players the chance to wage war with Rogue One content a couple of weeks before the film even releases.
You don't have to worry about spoilers, as nothing here is really story driven. Instead, consider this a chance to check out the planet Scarif a little bit early and, well, shoot a bunch of Rebel or Empire scum in the process. Given the focus of this DLC, it's appropriate that the pack is being called Rogue One: Scarif, and you can expect to add it to your Star Wars Battlefront playlist starting Dec. 6.
As for what you'll be getting in this content pack, folks who have been playing Battlefront for the past year probably already have a good idea, as it doesn't exactly break the mold. For starters, you'll be getting four brand new maps to destroy, all set on the planet Scarif, which plays a major role in the upcoming Rogue One film. You'll also get the usual two new playable heroes, who also serve as central characters in the film. The light side will have Jyn Erso, the main Rebel at the heart of the new film. Over to the dark side and you can expect to take control of Orson Krennic, whose name alone makes him sound like a real jerk.
Fleshing out all of those new maps and the new Rogue One characters will be the usual assortment of new perks, weapons and the like.
But that's not all that's coming in the Rogue One: Scarif pack, as something a little extra will be packed in free of charge that should make any PlayStation VR owner happy. The X-Wing VR Mission will finally arrive the same day as the new DLC pack, giving players a chance to take control of an X-Wing while dive-bombing the Death Star. Again, this mission will be free of charge, but you still need to own Battlefront to gain access to it. That's a little bit of a bummer in our book, as the similar Jackal mission for Call of Duty: Infinite Warfare was also free, but it was made available outside of the main game so even folks who didn't pick up the full package could check it out.
If you've been eyeing Battlefront for a year now, this could be the right time to finally pull the trigger. The game's Ultimate Edition includes all of the base content, all of the DLC up to this point, and will also include the Rogue One content once it arrives on Dec. 6.
Staff Writer for CinemaBlend.
Your Daily Blend of Entertainment News
Thank you for signing up to CinemaBlend. You will receive a verification email shortly.
There was a problem. Please refresh the page and try again.