The Nintendo Characters Miyamoto Wishes Were More Popular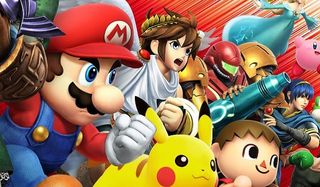 When someone says the word "Nintendo," which characters do you think of? According to Nintendo's Shigeru Miyamoto, there are a couple of mascots he wishes were in that list, but probably are not.
Speaking with Katie Linendoll on the Katie dot Show podcast, Miyamoto said there are a couple of his characters that he wishes had gained more traction with fans.
McCloud, of the Star Fox series, is a pretty surprising pull. The original SNES game is considered a console classic, and the feisty fella has found himself in a couple of other games over the years. He's also a mainstay in the Smash Bros. series, which boasts a wide array of Nintendo characters beating the stuffing out of one another.
But, that actually probably proves Miyamoto's point. Outside of the original Star Fox game and Smash Bros., Fox McCloud hasn't had the most robust games history. While plenty of people know who the character is, Miyamoto is probably referring to the fact that, on its own, Star Fox has never really been able to soar following that first game.
As for Pikmin, we're less surprised by that Miyamoto favorite. A delightfully quirky character from a creative and colorful series, Pikmin has all of the makings of a Nintendo star. However, the Pikmin games frequently fly under the radar, only drawing in a niche audience with each release. Again, at least he was popular enough to include in Smash Bros!
But while neither of these characters really holds a candle to the likes of Mario, Link, Samus or the Belmont family, the fact that you probably at least know who I'm talking about says a lot for the sticking power of Nintendo. Even characters that Miyamoto thinks are underrepresented are well known in the world of gaming, proving how good the company is at designing characters that last.
As for the rest of Miyamoto's chat with Linendoll, the gang talks about everything from the upcoming Super Mario Run for iOS to Miyamoto's love of bluegrass.
We're excited to see Miyamoto getting around in the States so much as of late. He recently appeared on The Tonight Show with Jimmy Fallon, where the host showed off both Super Mario Run and the first footage of The Legend of Zelda: Breath of the Wild running on the Switch. Miyamoto then sat in with The Roots, playing guitar as the band covered the Super Mario Bros. theme. Now that he's added Linendoll's podcast to his list of visits in the U.S., we've got our fingers crossed that more interviews and appearances start popping up soon.
Staff Writer for CinemaBlend.
Your Daily Blend of Entertainment News
Thank you for signing up to CinemaBlend. You will receive a verification email shortly.
There was a problem. Please refresh the page and try again.