PlayStation's Live Events App Is Being Discontinued, Get The Details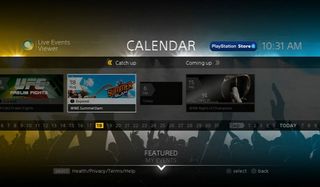 Sony announced this week that its PlayStation Live Events Viewer will be discontinued starting today, Jan. 10, with the service being removed from both the PlayStation 3 and PlayStation 4.
In an email sent to PlayStation customers, Sony announced that it would be bringing one of its streaming apps to a close. The Live Events Viewer allowed folks to watch free and for-pay events directly from their home console, such as concerts, fights, sports matches and the like. While no reason for this discontinuation was offered, we're guessing that none of our readers remembered that the Live Events Viewer even existed, which probably has something to do with it. It was a decent idea for a service, but it didn't seem to be getting too much use/notice.
According to an update from GameSpot, though, this isn't really going to have an impact on folks gaming on the PlayStation 4. If there's a live event you want to watch on Sony's newest console, you can now purchase it directly from the PlayStation Store. It'll get added to your "My Videos" collection, where you can check it out without having to go through yet another app.
Unfortunately for folks who are still only using a PlayStation 3, there's been no replacement service announced as of this writing and, if we're being honest, we don't expect there will be one. We love the PS3, but it's getting closer and closer to riding off into the sunset, which means more and more services will be closing out their time on the machine in general. That being the case, we doubt Sony is looking to plug in new functionality like they're doing with the live events purchase options on the PlayStation 4.
Apparently, the Live Events Viewer had a pretty good run, first launching on the PlayStation 3 back in 2013 and arriving just a year later on the PlayStation 4. But, again, we kind of forgot it even existed. If we're being honest, we're not sure we ever used it in the first place. Still, that's just a small sampling we're talking about, and we don't doubt there are at least a few frequent users of the app who are going to be disappointed by this news.
If you have any especially fond memories of using the Live Events Viewer, we'd be interested in hearing about it in the comments below. Just don't make it sound like too good of an experience, as we'll feel silly for missing out on it if it was actually a pretty rad application.
Your Daily Blend of Entertainment News
Staff Writer for CinemaBlend.
Your Daily Blend of Entertainment News
Thank you for signing up to CinemaBlend. You will receive a verification email shortly.
There was a problem. Please refresh the page and try again.