Reservoir Dogs Is Getting Another Video Game Adaptation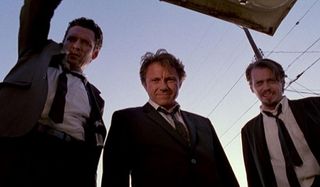 Gamers looking to party like it's 1992 will be excited to know that Quentin Tarantino's freshman effort, Reservoir Dogs, is set to be turned into a video game...again.
The first Reservoir Dogs game launched back in 2006 for the PlayStation 2 and Xbox. A third-person shooter, the object of the game was to let players take part in heists pulled directly (either by plot, conversation or theme) from the movie. Now, over a decade later, Big Star Games is developing Reservoir Dogs: Bloody Days, a top-down shooter that looks like what you would get if Hotline Miami was turned into a cooperative experience. Players will once again take on heists either from or inspired by the film, working through sticky situations and shootouts with the authorities along the way. If they want to keep with the true nature of the film, we've got our fingers crossed that some sort of betrayal system will be worked into the game, allowing players to straight-up betray each other along the way. Or, if nothing else, maybe there will be a competitive shootout to cap off each mission. So long as we can go into each mission totally distrusting our teammates, we're golden.
Whether or not players will be able to double-cross one another remains to be seen, but at least a report from Gamespot confirms that the new Reservoir Dogs game will boast a mechanic known as "Time Back." In short, players will be able to rewind time in order to alter the outcome of missions. Again, given the nature of the film, we can't help but wonder if that will somehow play into participants being able to see how things will play out, then rewind time in order to backstab their "friends." Here's a look at the game in action.
It has also been confirmed that players will be taking on the roles pulled straight from the movie, including Mr. Blonde, Blue, Brown, Orange, White and, of course, Mr. Pink. We're not sure if that means missions will be five-player, but that's not too big of a stretch considering how many games already allow four-player teams.
If you happen to be attending PAX East in Boston this weekend, you can try out the Reservoir Dogs game for yourself by heading on over to the Dell booth. Otherwise, Bloody Days is slated to launch on PC via Steam, as well as the Xbox One and PlayStation 4, sometime this year.
All of this Reservoir Dogs news has us thinking about other films by Quentin Tarantino and which ones might make good video games. Or, if nothing else, wouldn't it be cool if Bloody Days had DLC that let you play out missions as the characters from films like Kill Bill or even The Hateful Eight?
Your Daily Blend of Entertainment News
Staff Writer for CinemaBlend.