The Reason People Are Upset With Lego City Undercover For The Nintendo Switch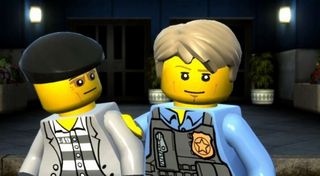 (Image credit: Warner Bros. Entertainment)
The Nintendo Switch has the ability to allow users to play games either through physical cartridges or digital downloads. The Switch itself only offers 32GB of internal memory space, so it's not entirely wise to store everything on the disk. However, this is proving to be a problem for Lego City Undercover.
According to Polygon, even though some people might opt to get the physical rendition of Lego City Undercover, they will still be required to download 13GB worth of data to the Nintendo Switch itself.
The report indicates that this was first noticed by a Redditor who works at a retail chain. Some retail outlets have begun stocking physical copies of Lego City Undercover for the Nintendo Switch, and on the case they noticed something peculiar: The package reads that up to 13GB of storage is required for the game download, and that the storage requirements may change.
This doesn't necessarily dictate that the game must be downloaded, but it does seem to indicate that it should.
A lot of people are left confused and questioning what's up with the space requirement for a game that comes in a packaged cartridge?
Polygon speculates that it could be a manufacturing issue; that some publishers are attempting to avoid paying higher costs for cartridges with large storage capacity. Skimping on physical media storage space and requiring gamers to download the rest of the game could be their way of sparing the costs.
Of course, none of this actually makes sense when you consider that Lego City Undercover will launch on the Nintendo Switch on April 4th for $59.99. It will include additional features like a co-op mode and some extra content, but it seems weird that the cartridge costs would be that high. According to the article, TequilaWorks, the makers of the upcoming Rime, mentioned that the reason their game is more expensive on the Nintendo Switch is due to increased manufacturing costs.
There has yet to be an actual breakdown on whether or not this is true, especially given that this wasn't an issue for Nintendo 3DS and DSi titles, both of which also used carts.
Some are saying it's due to storage capacity, but that seems a little disingenuous given that the Nintendo Switch can run micro SD cards and the prices range from as cheap as $1 up to $60, going from 32GB up to 512GB. That's not to mention that the original Lego City Undercover on the Wii U only required 22GB of free space. So the game easily could have fit on a 32GB cart for the Nintendo Switch, with 10GB to spare.
This is really odd also given that if it's true you'll need to download an extra 13GB separate from what's on the cart, then this means that the cart size is approximately 9GB. This means that they could have opted for an 8GB cart size for Lego City Undercover on the Nintendo Switch, given that the full download size of the original game was around 19GB of actual data.
Of course, there's just a lot of speculation around this issue right now, and, at this point, we have no idea if the new version of the game is the same size as the old version, or if it will, in fact, be larger. Right now, though, there's no reason to assume that the new version of the game will be that much larger than the original. We won't know for sure how the data was partitioned for the game on the Nintendo Switch until gamers actually get their hands on it and attempt to play or install it.
Staff Writer at CinemaBlend.
Your Daily Blend of Entertainment News
Thank you for signing up to CinemaBlend. You will receive a verification email shortly.
There was a problem. Please refresh the page and try again.