Lego City Undercover: The Chase Begins, Sales, Headline This Week's Nintendo eShop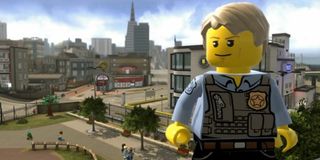 From Lego-centric prequels to a handful of discounted games, this week's new content for the Nintendo eShop is an eclectic blend that includes a little something for everyone.
This week's Nintendo content drop begins with Lego City Undercover: The Chase Begins for the 3DS. A prequel to the hit Wii U game, Lego City Undercover, players take on the role of police officer Chase McCain as he takes on his first case ever.
If Pokemon are more your speed, then you'll be happy to know that some fresh Pokemon Mystery Dungeon: Gates to Infinity DLC is headed to the eShop this week in the form of the new "Strongest Trail." The sale on the Pokedex 3D Pro is also coming to an end soon with gamers having until 9 a.m. PT april 19 to grab the veritable encyclopedia for just $9.99.
While the Pokedex sale is all but over, several other games are just now going on discount this week. You can get the robot adventure game Liberation Maiden for $4.99, the tabletop RPG Crimson Schroud for $4.99 or the puzzle/simulation game, Aero Porter for $2.99, all between now and May 30. You could also swipe the Dress to Play: Cute Witches! game for just $1.99, but that sale price is only valid through April 24.
In the back catalog category, Puzzler Brain Games, Puzzler World 2013 and Working Dawgs: Rivet Retriever will be released this week via DSiWare for the Nintendo DSi or 3DS.
Arriving exclusively for the 3DS will be another collection of digital games on the eShop, including Harvest Moon: The Tale of Two Towns, Mystery Murders: Jack the Ripper, Super little Acorns 3D Turbo, Tetris: Axis and Witch and Hero.
Staff Writer for CinemaBlend.