Mario Kart 8 Deluxe Is Off To An Amazing Start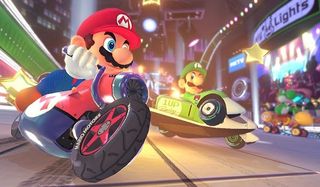 Mario Kart 8 Deluxe has barely left the starting line and it's already off to a strong start for the Nintendo Switch. According to the publisher, the game is setting the strongest pace in the series' history.
The latest iteration of Mario Kart 8 launched for the Switch over the weekend and, according to Nintendo, it has become the fastest-selling Mario Kart game throughout the entire franchise's run. According to a report from Nintendo, the previous record holder was Mario Kart Wii, amassing 433,900 in sales across the U.S. when it first launched back in 2008. As of this writing, the latest iteration has moved 459,000 units across physical and digital sales for a jump of nearly 30,000 units. With about 2.7 million Switches in homes across the world, that makes for an attach rate of 45 percent. In other words, nearly one out of every two Switch owners decided to pick up a copy of the game.
While we'll happily admit that's fantastic news for Nintendo (we loved the game, after all), there are a few extra factors that should be taken into account here. For starters, there were more Switch consoles available out of the gate than there were Wii consoles, so of course the number of people who have managed to get their hands on the console is greater. Secondly, it isn't like there's much to compete with on Nintendo's new console.
We don't mean that to sound so snarky since, again, the game and the console turned out fantastic. But the only other heavy-hitter on the console right now is the new Zelda game and fans have had a couple of months to pick that one up already. Nintendo basically threw a whale into waters occupied by very few fish, so we're not exactly shocked to see Mario Kart 8 Deluxe do so well.
And, to reiterate, it isn't like Nintendo sent us a lemon or anything. As pointed out in the original announcement, MK8D has received more top review scores than any other game in the series to date, cruising around a Metacritic score of 93 as of this writing. It's hard to find fault in the racer when they basically took a game that everyone loved a couple of years ago and bolted on a handful of new characters and features to complete the package. Since we missed out on the original MK8 on the Wii U, we're happy to see that so much care was taken to offer an even better game this second time around.
For those of you who managed to get your hands on the new Mario Kart, how is it treating you so far? Let us know in the comments below.
Staff Writer for CinemaBlend.