Blaster Master Zero Is Getting A Free Update, Here's What's In It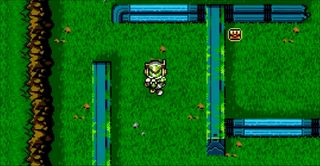 (Image credit: Sunsoft Corporation)
Inti Creates is releasing a free update for their arcade shooting game, Blaster Master Zero. The new update is available right now for those who own the game, and it should update your Nintendo 3DS or Nintendo Switch version to the latest outing.
Gamespot did a quick write-up on what's new in version 1.2 of Blaster Master Zero, including the new Destroyer Mode, which adds a new difficulty setting to the game that players can only access after they beat the main game. The mode is designed so that players will have to utilize their equipment and movements to the best of their ability, making use of every single piece of armament in their stash in order to overcome the enemies.
The AI will also prove to be a lot more challenging, so players on both the Nintendo Switch and Nintendo 3DS will have to utilize smart movement and timing in order to get through each of the levels on the Destroyer Mode setting.
There's also the addition of new playable EX characters, and this includes Gunvolt from Azure Striker Gunvolt and Ekoro from the Gal Gun games.
You can see the characters and content in action with the trailer that they posted up to give you an idea of what the new update is like for the 3DS and Switch.
The EX character mode in Blaster Master Zero adds a whole new way to play, as the new characters have completely new abilities and moves for you to master. Both characters play wildly different from one another and are going to be free for a limited time between a set time frame.
The Destroyer mode is free through update 1.2, and Gunvolt will be playable for free between May 4th and May 17th. After that you'll have to pony up $1.99 if you want to get your hands on him. So it would probably be best to download the update and the character whether you're on the Switch or 3DS right now!
Additionally, the Ekoro playable character won't be available until June 1st. She will also be free in Blaster Master Zero for a limited amount of time between June 1st and June 14th. After that date, you will have to pay $1.99 if you want to download and play as Ekoro in the game.
Blaster Master Zero was one of the early launch window games for the Nintendo Switch, which blasted onto the market back in March. It's nice to see that Sunsoft and Inti Creates are putting time and effort into updating the game and keeping those who bought the title engaged. Also, free DLC for a limited time might even convince some gamers to bite the bullet and pick up a copy for themselves.
Staff Writer at CinemaBlend.