Monster Hunter Is Coming To The Nintendo Switch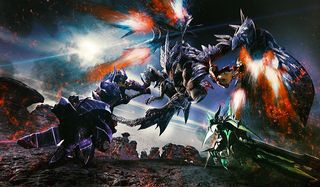 The Nintendo Switch just had another major franchise added to its roster, with Monster Hunter XX officially announced for the platform. Much like the creatures you must track down in the game, we imagine this one is going to be absolutely huge.
It's no secret that the Monster Hunter series is a big draw, especially in Japan. While the series can be played solo, it's always been at its best when played with friends, which is why the 3DS versions of the games have always been so popular, especially in Japan where that type of social gaming is more common.
It makes sense, then, that Capcom would want to bring the latest game in the series, Monster Hunter XX (Read Double Cross, in case you're curious) to the Nintendo Switch, a console that works perfectly well as either a home gaming machine or portable device. Combine all of the fast and frantic gameplay of the Monster Hunter series with the portability and beautiful graphics of the Switch, and we've likely got a big winner on our hands.
News of MHXX on Switch, according to Gamespot, first popped up on the Capcom website. There's a big picture of one of the titular monsters and a Switch console but, otherwise, that's about it. The original article points out that there's a Monster Hunter Championship scheduled for this weekend, so it stands to reason that Capcom is building buzz for a full reveal at that very show. Otherwise, we're only a couple of weeks out from E3 at this point, so maybe all of those must-have details will be revealed during Nintendo's press video during the show.
Just to keep things nice and clear, the game has not been announced for any territory outside of Japan at this point. However, pretty much all Monster Hunter games eventually come to the U.S., so we're pretty hopeful that an announcement for additional regions outside of Japan are only a matter of time. If Capcom really wants to make some waves, a worldwide launch to unite the community would be a pretty rad move in our book.
What's interesting here is that Monster Hunter XX, a beefed up version of Monster Hunter Generations, is already available on the 3DS in Japan and expected to come to the U.S. at some point down the road. Again, depending on how development is going, we wouldn't be too shocked at this point if Capcom announced a 3DS and Switch version of the game were launching at the same time. I mean, a lot of the localization should remain identical between the two versions, right?
But again, that's all just speculation and wishful thinking at this point. For now, just be happy that more Monster Hunter is coming and keep your fingers crossed that the new game heads West.
Your Daily Blend of Entertainment News
Staff Writer for CinemaBlend.
Your Daily Blend of Entertainment News
Thank you for signing up to CinemaBlend. You will receive a verification email shortly.
There was a problem. Please refresh the page and try again.