Bulletstorm Developer Is Working With Square Enix On A New Title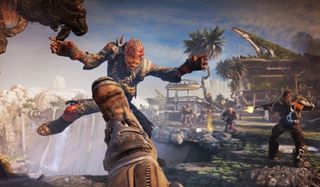 Here's a partnership we didn't expect to be writing about today: The teams at People Can Fly and Square Enix are joining forces to make a brand new game, with plans to eventually launch on console and PC.
According to a recent announcement on the People Can Fly blog, the team is making a few new hires in order to prepare for the development of a new game in partnership with Square Enix. Square Enix is of course best known for series like Final Fantasy, Kingdom Hearts and, more recently, Tomb Raider. People Can Fly has a smaller portfolio, consisting of the under-the-radar gem, Bulletstorm, and their co-developed project, Gears of War: Judgment.
That being the case, we've got a sneaking suspicion that Square Enix may have sought PCF out for a new shooter, but that's entirely speculation. Heck, maybe they're making a grand RPG (with guns?) or even a free-to-play puzzle game (with guns?). Either way, we're certainly intrigued to learn more.
Unfortunately, it will likely be a while before any new details come rolling out. All we know right now is that they're planning on this being a "high-end original title" and that People Can Fly are in the process of beefing up their team in order to begin development. In other words, it sounds like they've got a concept nailed down, but we doubt much (if anything) has been done on the development side. But, hey, if you're looking for a job, they're currently on the lookout for gameplay programmers, an AI programmer and a VFX artist, so get to applying!
According to Lee Singleton, head of studio at Square Enix London, everyone involved is pretty pumped for this project.
Square Enix has certainly been branching out in unexpected ways in recent years, partnering with the teams behind games like Bravely Default on the 3DS and Hitman on consoles and PC. They've also got their hands in plenty of mobile ventures, which is a good sign that they're trying to adapt with the times and find new ways of staying relevant. Heck, they've even partnered with Marvel to make a new Avengers game. If they're working with People Can Fly on this next project, we assume whatever they've got cooking will be well worth a look.
So now that we know the two teams involved, what do you readers think Square Enix and PCF have in store for us? Give us your game ideas in the comments below.
Staff Writer for CinemaBlend.
Your Daily Blend of Entertainment News
Thank you for signing up to CinemaBlend. You will receive a verification email shortly.
There was a problem. Please refresh the page and try again.