Kim Kardashian In The Running To Be The New Lara Croft?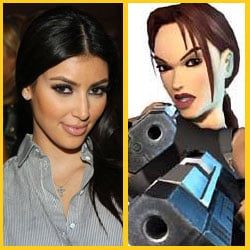 Let's just go ahead and brand this one with a big fat rumor alert right off the bat. The news comes from Global Grind, which not only purports that Kim Kardashian is being considered for the lead role in the new Tomb Raider movie, but she's already in negotiations to play Lara Croft. According to their unnamed source, "Kim is wanted to play a far more comic-strip version of Lara which would be shot in 3-D and aimed at a teen audience."
Remove the Keeping up with the Kardashians antics, the never-ending tabloid gossip and the sex tape and you know what we're left with? Disaster Movie, the film that earned her a Razzie nomination for Worst Supporting Actress. Sadly Kardashian lost out to Paris Hilton, but you know what Kim had to say about her nod? "It's an honor just being nominated! LOL!" Sorry, Internet slang isn't getting you out of this one.
There is one thing on Kardashian's side with this whole Lara Croft thing: she does look the part. Perhaps if Disaster Movie wasn't on her resume, I'd be willing to give Kardashian a shot, but she clearly doesn't have what it takes to put on a decent supporting performance let alone a starring one in a role originated by Angelina Jolie. Unfortunately, even if Kardashian worked that ass off and managed to pull it off, it's still unlikely anyone would take her seriously.
Your Daily Blend of Entertainment News
Staff Writer for CinemaBlend.