Call Of Duty: WWII Is A Real Step Forward For The Franchise, Here's Why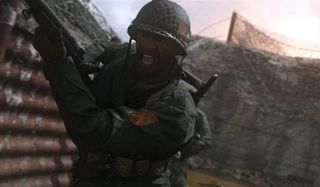 The latest Call of Duty from Sledgehammer Games may be taking the series back to its narrative roots, but several other aspects of WWII are taking a marked step forward for the FPS series.
During E3 2017, I had an opportunity to get in some behind-closed-doors time with footage from Call of Duty: WWII before going hands on with the games new multiplayer mode, War.
As the Sledgehammer team pointed out, it's been nearly a decade since the Call of Duty series was boots on the ground in World War II. Back then, the world had grown a bit tired of that particular setting and, with the release of Modern Warfare, the entire FPS landscape changed practically overnight. But everything is cyclical, and as the series edged further and further into the future (fans were barely even willing to give the space-aged Infinite Warfare a chance last year) genre vets began to yearn for the days where soldiers fought in the trenches and didn't have so many nifty gadgets to rely on.
It's no surprise that folks seem to be giving a far warmer reception to WWII. While the Battlefield series has found success in the "war to end all wars," Call of Duty is fast-forwarding about 20 years to arguably the most legendary conflict to every shape history.
But while the game's plot is returning to the past, it was clear that Sledgehammer wasn't content to go "business as usual" with their latest shooter. Sure, CoD: WWII will have a campaign, competitive modes, and even some zombies to mow down, but a couple new wrinkles prove that the team is trying to think of new ways to keep things interesting.
One of those ways is the game's new social space, which is kind of hard not to compare to the Tower in Destiny. It's probably easiest to think of this as an active multiplayer lobby. Players can drop into a base camp that is occupied by their fellow CoD fans. From there you can run around the shared map, talk to other players, team up with a squad and even join communal features like a competitive shooting range or a one-on-one fighting pit.
While I had a chance to try out a standard deathmatch competitive match, the gameplay that really caught my attention was the new War mode. We've seen similar modes in games like Battlefield, but it's nice to see the Call of Duty formula evolving once again, this time presenting players with an evolving objective.
The map I played was set in a village that had been mostly devastated by the war. As the attacking team, our first objective was to overtake a house that was being protected by the enemy. Our opponents were a bit too skilled, however, and they managed to keep us at bay long enough for the timer to run out and the match to end in about five or 10 minutes.
Once my team was on the defensive, I was able to see just how expansive this mode can get. Sadly, that was only because my team was really, really bad for a second round in a row. Once the attackers claimed control of the house, we were ordered to fall back to a bridge and prevent them from rebuilding it. Once they managed to overrun us again, our next objective was to prevent them from planting explosives on our weapons cache. Unable to defuse the bomb, we were once again pushed back on the map, this time tasked with stopping the enemy from escorting a tank though the village.
It was great to see the map's objectives evolve over time and, had we pulled our forces together and held them at any point, the victory would have swung in our favor. Also worth noting were the constructables in the environment. As the defending team, we could spend some time building things like mounted turrets and barbed wire barricades to assist our efforts. That added another fun degree of strategy to the game, even if none of that seemed to help us overthrow a clearly superior enemy.
Maybe it was the inclusion of these fresh elements for the Call of Duty series, and maybe it was just returning to the series' roots on modern consoles. But for whatever reason, I left the Activision booth eager to see what else CoD: WWII has in store once it launches for Xbox One, PlayStation 4 and PC on Nov. 3.
Your Daily Blend of Entertainment News
Staff Writer for CinemaBlend.
Your Daily Blend of Entertainment News
Thank you for signing up to CinemaBlend. You will receive a verification email shortly.
There was a problem. Please refresh the page and try again.