The Wolf Among Us Cliffhanger Has An Answer, That We'll Probably Never Learn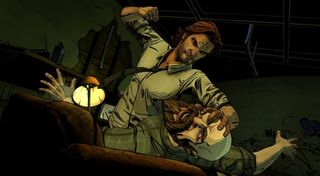 (Image credit: Telltale Games)
Gamers have been begging Telltale Games for answers, clues, anything about The Wolf Among Us. While it didn't sell quite as well as the other Telltale titles, it has become one of the most talked about Telltale games, and a lot of that is due to the answers that we haven't received and will probably never receive.
In an Ask Me Anything on Reddit, Telltale Games head of creative communications, Job J. Stauffer, explained to fans that it probably isn't wise to hold your breath for answers regarding the big mystery at the end of The Wolf Among Us, saying...
Stauffer says that everyone who has played the game has asked him about the ending, the mystery and "who was who". This spawned from the fact that the choose-your-own-adventure title from Telltale managed to resonate strongly with fans when it first released back in the fall of 2013.
The game was coming off some really, really strong critical acclaim and feedback that Telltale had received for the first season of The Walking Dead: The Telltale Series, which followed the tragic events surrounding Clementine and Lee Everett. It was definitely a step down in tension and tone from The Walking Dead to The Wolf Among Us, but the quality of the character development and the mystery surrounding the events of the first season managed to hook in a dedicated audience even though sales-wise it wasn't quite up to par with The Walking Dead.
According to Steam Spy, The Wolf Among Us has only managed to move a million copies on Steam alone over the course of four years, which is definitely impressive but is less than half of what the first season of The Walking Dead did on Steam all by itself.
It doesn't sound like there will be any plans in the near future to continue The Wolf Among Us, but, according to Stauffer, if the team does decide to hop back into the story, it won't be picking up where it left off...
The dedicated fan base for the series actually managed to spill over into the world of comic books, where Vertigo and DC ended up extending the universe in the form of a series of comic books.
It sounds a little bit like the Firefly effect, where there's a small but highly dedicated audience attached to the series. Right now Telltale is working on finishing up The Guardians of the Galaxy and Minecraft Story Mode. Then again, maybe after the team finishes up the other games maybe we'll finally get another season of The Wolf Among Us.
Staff Writer at CinemaBlend.