How To Watch Xbox's GamesCom Announcements Live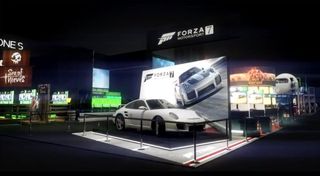 (Image credit: Microsoft)
Microsoft has plans on taking Cologne, Germany by storm with a huge press conference event at GamesCom this year. For those of you out there interested in watching the live event, Microsoft has also afforded some opportunities for gamers to watch from the comfort of your home.
Over on the Xbox News Wire, Microsoft announced that there will be a live-stream of the GamesCom conference starting at 12:00pm PST, 9:00pm CEST, and 8:00pm BST.
You'll be able to watch the entire event via the Mixer live-stream app, either through your PC, mobile device or your Xbox home console.
The GamesCom press conference will also also detail something gamers have been asking about since E3: the pre-order bonuses and options for the Xbox One X. This was revealed as a tweet from the official Xbox Twitter account.
While we knew that the Xbox One X would cost $499, what we don't know is if there will be any pre-order bonuses, and when pre-orders will officially open. However, it's likely that on August 20th not only will the pre-order info be made available, but it wouldn't be surprising if pre-orders opened the day of the announcement on August 20th.
As far as games are concerned... we know Crackdown 3 has been delayed to spring, 2018. However, this doesn't mean that we won't get to see any gameplay. Hopefully there will be a small amount of gameplay on display to at least show gamers what sort of progress has been made.
Expect additional gameplay footage of games running at 4K on the Xbox One X, likely third-party titles such as Assassin's Creed: Origins and maybe Destiny 2. The post doesn't say exactly which games will be on display, but a teaser for the booth tour does explicitly showcase Assassin's Creed: Origins, which is expected to run at 4K on the Xbox One X. The teaser also reveals Sea of Thieves and Halo Wars 2, so perhaps there will be special showing of those games as well?
Before the teaser rounds out we also get a short glimpse at a booth for Bluehole Studio's Playerunknown's Battlegrounds, the multiplayer survival game based on the Arma 3 mod and the movie Battle Royale. The game will also supposedly run at 4K on the Xbox One X.
Obviously, we can expect to see more of Forza Motorsport 7, which is designed to run through and through at 60 frames per second at native 4K.
The news post also reveals that on Monday there will be a special live-stream presentation for the 20th anniversary of Age of Empires, and from Tuesday through Saturday there will be various games showcased throughout the Xbox booth at GamesCom.
The real show-stealer will obviously go to the Xbox One X, as more people will want to know about the benchmark performance, how well it will run third-party games, and if Microsoft will have any surprise announcements for games coming to the XBX following the recent delay of Crackdown 3.
You'll likely want to tune in on Mixer and not miss a beat come this Sunday.
Staff Writer at CinemaBlend.
Your Daily Blend of Entertainment News
Thank you for signing up to CinemaBlend. You will receive a verification email shortly.
There was a problem. Please refresh the page and try again.