The Walking Dead: Michonne Trailer Is Bloody And Mysterious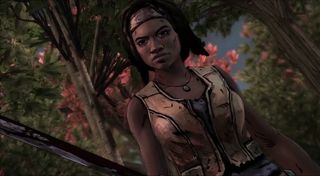 Telltale Games have taken it upon themselves to continue to pump out more Walking Dead games. Their latest take on the popular series from creator Robert Kirkman focuses on the samurai-sword wielding zombie killer, Michonne.
The trailer for the game shows off some of the people Michonne will come across as well as a few of the locations she visits and the zombies she kills. Check it out, courtesy of Telltale Games' official YouTube channel.
The game puts players in the shoes of the post-apocalyptic swordswoman. The story appears to take place after her child has died but before she got her hands on the white katana. The video above shows her with a rather long and deadly looking machete. Before we really get to see her wielding it the way she does with the katana in the popular AMC show, the clip quickly cuts off.
The video and the contents within are fairly mysterious, because we see that Michonne appears to be at some sort of camp site with a nearby dock. She appears to dispatch of a few zombies at the site before proceeding to get onto what appears to be a 35 foot yacht. Inside we briefly see that there are a few zombies inside, showing that whoever the passengers were didn't appear to make it. Michonne also seems to be traveling with another fellow as they encounter some other armed men and a horde of some zombies.
We see that there are some people who appear to be at odds with certain members of the group and some high-tensions at play. What any of that means is as good as anyone's guess, but according to the trailer we'll find out in February of 2016, next year.
The fan reactions to the trailer are mostly positive save for the fact that a lot of people are trying to figure out how Telltale will take on yet another game to their already full stable of IP and properties under their belt. This would be the second spin-off Walking Dead game running alongside The Walking Dead: Season 2. To their credit, though, Telltale only plans to run the Michonne spin-off for three episodes, presumably before getting back to the third season of The Walking Dead main series.
During The Game Awards they also announced that they are working on a Batman property and a Marvel property. They're just picking up all the big names, eh?
The Batman game will join their other games, including The Wolf Among Us, Tales From The Borderlands, The Game of Thrones – which was recently confirmed to get a second season – and the Minecraft: Story Mode.
Telltale definitely keeps busy. So far having a full plate hasn't affected the quality of their titles, but some gamers worry about them burning out on taking on too much. It's an interesting sentiment to have fans care enough that they want to ensure that the developer is not stretched too thin so that they can keep making quality products.
You can look for The Walking Dead: Michonne to go live this upcoming February for home consoles, PC and mobile devices.
Staff Writer at CinemaBlend.
Your Daily Blend of Entertainment News
Thank you for signing up to CinemaBlend. You will receive a verification email shortly.
There was a problem. Please refresh the page and try again.