Review: Zen's Walking Dead Pinball Table Is Killer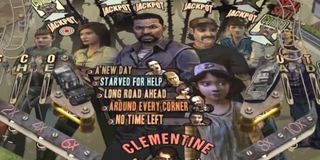 Shooting zombies in the head, scrounging for supplies, trying to enjoy calm moments with your loved ones and making snap decisions that will affect the flow of the game are the types of things you would expect out of one of Telltale Games' chapters of The Walking Dead. These aren't activities typically associated with pinball, but Zen Studios manages to pull it off nicely with their latest table following Lee, Clementine and all of their friends' quest for survival.
Earlier this year, Zen Studios announced it would be working hand-in-hand with the crew at Telltale Games in order to craft a new pinball table that captured the look, sound and feel of their award-winning adventure games based on The Walking Dead comic books.
Releasing first to PlayStation consoles and then making its way to other platforms, The Walking Dead table will arrive on the PS4, PS Vita and PS3 versions of Zen Pinball 2 this coming Tuesday, Aug. 26, mixing the Zen Studios pedigree for creating dynamic, fantasy-based tables with all of the staples we've come to expect out of a Telltale game.
The Walking Dead table is possibly the most detailed of the Zen Pinball lot, so you'll want to take some time to enjoy the virtual tour before starting your first game. Not only will this give you a feel for the various bits and pieces that will affect gameplay, but it will give you a chance to see just how much stuff from the first season of The Walking Dead adventure game the team managed to cram into one wide-body setup.
Scenes from all five chapters make it into the table, including the overrun farm, the fortified hotel, the bell tower, the train and more. Losing a ball will force the camera to zoom in on the appropriate scene, showing off some of the extra little touches (like animated zombies) that have been included.
This type of attention to detail is applied to all facets of the table. The plunger is replaced by a giant axe that fires the ball onto the table when swung. The kickback sound is a loud and surprising gunshot. The center drain his home to a pair of doors that have been boarded shut, and zombies frequently crash up against it, eager to get out.
The main board is broken into a main field and a smaller raised field that you can access once certain conditions have been met. This second field features inverted flippers and task you with bashing zombies to score additional points. The lower board is where the majority of the action occurs, complete with a slew of ramps, a trio of bumpers nestled off to the left of the table and, in the center, an actual zombie.
This is one of my favorite aspects of Zen tables; rather than try to create experiences that could be replicated in real life (not that there's anything wrong with that), they add in components and game modes that could never be pulled off in a real world table. Lee is almost always on the play field near the left bumper, for instance, adding commentary and occasionally fighting off zombies or talking to Clem. The zombie in the middle of the table serves as a gate keeper of sorts, similar to the drawbridge in the real world table, Medieval Madness. You need to bash that zombie with a few well-aimed shots in order to open up the alley that lets you select missions. There's also a horde of zombies reaching out from a grate nearby, who will grab your ball if it ventures too close.
The table's missions are ripped directly from the Telltale chapters, which actually brings me to one of my only major gripes. If you haven't played The Walking Dead adventure games, you have absolutely zero context regarding your missions and the choices you will make. Selecting a chapter will task you with a decision such as "Save character X" versus "Save character Y." If you've played the Telltale game, you'll likely know exactly what the situation is referencing. For those unfamiliar, though, it will probably come off a little shallow. You'll wonder who these people are or why taking supplies would be considered a moral decision. Then again, taking the time to add a bit of context, even with a one-sentence lead in to the decision, would likely slow the game down and take away from that all-important tension imposed by making fast decisions.
No matter which route you take, though, the game will move along and offer up various tasks depending on which choice you selected. These range the typical pinball gamut, including earning X number of points on bumpers or the spinner, or landing shots down certain ramps.
In the midst of all of that, you will occasionally trigger additional events, including a quiet moment with Clem that I don't want to ruin here, side tasks to gather more food, or even a mini-game that has you jumping into the first-person view in order to snipe a few walkers.
The table is unusually quiet for a pinball romp, which is also perfectly appropriate for the game we're talking about here. Low key guitar ditties from the original game play in the background while Lee and other characters will offer some dialogue to go along with your current objective. When things get intense, the music kicks it up a notch, crashing back down to near silence once the matter has been resolved.
If you enjoyed the first season of The Walking Dead from Telltale games, you'll likely get an extra big kick out of this new table Zen Studios has to offer. It's clear that they understand what made that original series work, and they've done an admirable job of plugging those concepts into a completely unexpected setting.
If, however, you just like a good pinball table, then The Walking Dead should scratch that itch quite nicely, too. The middle drain is narrow while the outside drains always seem to be hungry for a poor bounce, making this table one of the less forgiving of the Zen Pinball 2 lot. The various ramps are well placed but easy to get to while more complex shots will grant access to bigger rewards and gameplay mechanics. I also really dig that zombie hanging out in the middle of the table. The ball makes a meaty whack when it passes through him which, again, complements the table's theme nicely.
Disclosure: This is review based on a download code for the table provided by the publisher.
Players: 1-4 (Online multiplayer)
Platforms: PS4 (reviewed), PS3, Vita, Xbox One, Xbox 360, Wii U
Developer: Zen Studios
Publisher: Zen Studios
ESRB: Everyone 10+
Rating:
Your Daily Blend of Entertainment News
Staff Writer for CinemaBlend.