LawBreakers Releases A New Patch Here's What It Does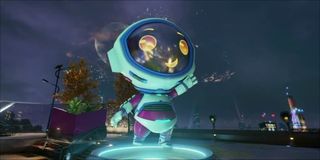 (Image credit: Boss Key Productions)
Boss Key Productions isn't done making LawBreakers into a better game. The developers, led by none other than Gears of War creator and Epic Games alumni Cliffy B, are currently pumping out new content and updates for the game, including a new patch which adds a new game mode, a new map, and several gameplay tweaks.
You'll be able to play in a brand new mode called Skirmish. The new Skirmish mode in the vertically-inclined first-person multiplayer shooter will be offered through a limited time mode in Team Deathmatch. Apparently, Skirmish will then branch out beyond that in future updates.
Balancing to the various gameplay mechanics have also been applied, including the way health regeneration works, also the way HP is handled for all the classes, including upgrading all of their HP.
Over on the official Lawbreakers website, there's a full list of the patch notes, including improvements to the matchmaking, which should make finding matches and playing with people around your skill level a much easier task.
All of the character classes have also had some minor tweaks and balances made, whether it be their speed being altered, their damage modified, or their weapons completely overhauled; everyone has been tweaked one way or another.
Some of the modes also got a bit of behind-the-curtain loving as well, such as Blitzball having the game clock modified, score limit reduced to 5 points to win, and the game timer reduced down to 10 minutes.
It's not all tweaks and modifications available in patch, though. There's also a brand new map for Lawbreakers called Namsan. There's a two-minute trailer giving you an overview of the new map.
The map is a sci-fi based center based on a fictional corporate tower set in Korea underneath a space elevator.
There are a lot of open spaces and jump pads, but no gravity wells within the stage. It also sports an even flow of moving from the outdoors into the indoors and back out again.
I can't help but think about Overwatch seeing a map like that -- the colors, the tight corners, the even-flow spaces, and the circular design reminds me so much of Blizzard's team-shooter with a bit of a nod to Call of Duty: Infinite Warfare.
For gamers who already own Lawbreakers, you can check out the new map, the new modes, and the new balance tweaks right now on PlayStation 4 and PC. The game launched this past summer, but Boss Key has been having some trouble retaining players. We'll see if the new maps and modes will change that around and if the developers can escape the ominous launch dirge that also plagued games like Battleborn, and potentially turn it around like Ubisoft did with Rainbow Six: Siege.
Staff Writer at CinemaBlend.
Your Daily Blend of Entertainment News
Thank you for signing up to CinemaBlend. You will receive a verification email shortly.
There was a problem. Please refresh the page and try again.