One Third Party Has Big Plans For The Nintendo Switch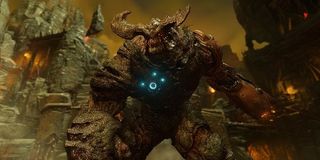 Nintendo can attest to the tremendous uphill battle a games platform must face if it does not have the backing of third-party developers. Luckily for the Switch, it's attracting plenty of outside support, including lots of love from one of the biggest developers/publishers in the industry.
It's no secret at this point that Bethesda loves the Nintendo Switch, but it looks like that relationship might be growing even stronger than we thought. In a recent interview with Venturebeat, Bethesda VP of marketing and communications, Pete Hines, explained that the team is working very closely with Nintendo in order to earn mutual success.
Hines is actually underselling the current slate of Bethesda Switch games here. He's referencing DOOM and Wolfenstein: The New Colossus, both of which were recently announced as coming to Nintendo's newest platform. The former originally launched last year and is already in playable form for the Switch. According to buzz around social media, it actually plays really well on Nintendo's console, too. As for Wolfenstein, that one doesn't come out until later this year on other platforms, so don't expect to see it on the Switch for a while yet. In the meantime, we've still got the Switch version of Skyrim hitting the console this November for a total of three Bethesda games, currently.
And as Hines states, this is likely just the beginning. Shinji Mikami, the director of The Evil Within 2, recently told Gamespot that he would like to see that upcoming survival horror game on the Switch, too. And with Rockstar bringing games like LA Noire to the Switch, there's no telling what other games from yesteryear might be getting the updated treatment.
Back to Bethesda, though, we're definitely interested in hearing more about what else might be coming to their Switch stable. Fallout 4 makes a heck of a lot of sense at this point, and we've even heard some buzz concerning Fallout Shelter on the platform. But while all of that is great, we'd be really eager to hear about a Bethesda-made original game, developed from the ground up with the Switch hardware in mind. Until that day comes, though, it looks like we'll have plenty of their games to keep us busy.
Staff Writer for CinemaBlend.