PlayStation Head Andrew House Is Leaving Sony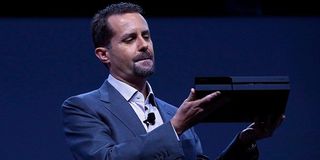 After nearly 30 years with the company, Sony Interactive Entertainment has announced that president and CEO Andrew House will be stepping down. He's held that particular position for the past six years, and has officially passed the baton to deputy president John Kodera.
According to the announcement from Sony, House will stick around as chairman through the end of the year to make sure the transition goes smoothly. From there, he's off to "new challenges," though no word yet on what those might be.
When house took over at SIE, it's safe to say the PlayStation brand was struggling. The launch of the PlayStation 3 had not gone super well and, while the brand was re-building steam, it was a far cry from the glory days of the previous generation. House stepped in and helped right the ship, leading to the era of the PlayStation 4, where Sony finds itself back on top of the console market.
There's an old saying that it's best to go out on top and, based on House's comments following the announcement, that's exactly what he's doing.
If you've watched Sony press conferences or followed PlayStation news for the past half-decade, then you're probably very familiar with House. The guy displayed a clear love for the work he was doing and was genuinely excited for the hardware and software making its way to PlayStation. In other words, he is exactly the kind of guy you want running SIE.
Thankfully, it sounds like they've found a solid candidate to step in and take over. Kodera has been involved with the company for many years and has had his hands in several divisions. Plus, he comes with a recommendation from Kazuo Hirai and House himself, so we're not exactly worried about PlayStation's future. As President and CEO, Kodera has been given the keys to the kingdom while it is enjoying an era of prosperity. That's as solid a starting position as you can hope for in this industry.
We hate to see House go. He's right in the mix with the likes of Hirai and Reggie Fils-Aime; folks known for being strong leaders while having a deep passion for the company they represent. At the same time, we welcome Kodera and wish him all the luck in the world. We look forward to seeing where his leadership takes gaming.
Your Daily Blend of Entertainment News
Staff Writer for CinemaBlend.
Your Daily Blend of Entertainment News
Thank you for signing up to CinemaBlend. You will receive a verification email shortly.
There was a problem. Please refresh the page and try again.