The Original Star Wars Battlefront II Has Online Multiplayer Again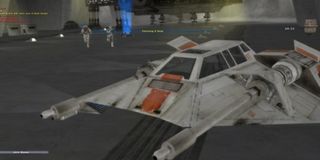 (Image credit: Disney)
Back in 2013 GameSpy ended up being shut down, and with it all of the games that used the network service to facilitate online multiplayer. One of those games was Star Wars Battlefront II, which came out in 2005. Well, after some engineering and reworking, GOG.com managed to get the multiplayer up and working again.
The DRM-free digital distribution service GOG.com announced over on its official website (opens in new tab) that the team of engineers managed to get the multiplayer working again for Pandemic's Star Wars: Battlefront II on PC.
The multiplayer network setup was facilitated through the GOG Galaxy client, enabling gamers to pick up a DRM-free copy of Star Wars: Battlefront II and play it with a bunch of other people online. Not only that, but GOG made it so cross-platform compatibility has been enabled, allowing every verified version of the game to play online across the same servers, including Steam clients.
Disney actually made the announcement over on Steam, keeping it brief via a news update that informed the community that the old Pandemic Star Wars shooter has its multiplayer restored. The update simply informs Steam users that it's possible to play with up to 63 other players online in intense PvP battles.
The game truly is a remarkable, longstanding benchmark for playability and engaging PvP action when it comes to bringing the Star Wars universe to life. EA and Pandemic made crazy cash when the game first released 12 years ago for the PS2, PC and OG Xbox. EA will likely stand to gain even more now that the PC version's multiplayer servers have been restored for online play.
Previously, gamers would have to rely on third-party software such as GameRanger or other utilities in order to organize online play sessions in Star Wars: Battlefront II, but now they simply have to pop open GOG Galaxy or the Steam client, boot up the game and hop into an online battle.
This news comes at a rather peculiar time when EA and DICE are prepping to launch the eighth gen version of Star Wars: Battlefront II, which runs on DICE's famed Frostbite game engine. The initial reboot in 2015 was received with some mixed reactions from the community who were expecting something more akin to what Pandemic had accomplished a decade earlier. DICE's vision of the game had fewer features, content, player counts, and classes, prompting purists to heavily criticize the outing.
A lot of gamers compared it to Pandemic's Battlefront II, which featured a four-player cooperative campaign mode, Galactic Conquest, robust space battles, and a variety of ground-based maps as well. The only reason the game hasn't been played as much is because the servers went kaput.
Well, now that GOG has restored service to the game we'll see if the player count goes up. GOG.com (opens in new tab) currently has a sale on old Disney Star Wars games, with discounts ranging up to 77% off. So if you were curious about the original Battlefront II and wanted to check it out ahead of the release of DICE's Star Wars: Battlefront II, you can do so right now.
Your Daily Blend of Entertainment News
Staff Writer at CinemaBlend.