Capcom Heroes Mode In Dead Rising 4 Looks like Crazy Fun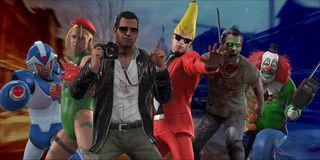 Capcom unveiled a brand new mode for Dead Rising 4, even though the game is about to be well over a year old. Nevertheless, if you're picking up interest in the game now that it's making its way to the PlayStation 4 this December, you'll probably find yourself doubly excited after witnessing the Capcom Heroes Mode in action.
The trailer was posted up over on the official Dead Rising YouTube channel. It clocks in at just two and a half minutes, but it's enough to give gamers a thorough look at what they can expect from the Dead Rising 4, over-the-top game mode.
One of the developers who worked on Dead Rising 4 walks gamers through the new Capcom Heroes Mode, which features just over a dozen different new outfits for Frank West to don, all of which are based on classic characters from Capcom's illustrious history of IP.
The trailer recounts how Frank will be able to slap on a Cammy outfit from Street Fighter and perform the leggy military veteran's signature vertical-drill kick. Frank also has access to the X Buster upgrades from Mega Man X, and can also don the Sissel outfit from Ghost Trick that allows him to turn into a washing machine and slam the ground to paralyze and damage all nearby enemies.
Additionally, the trailer reveals the classic Frank West costume, featuring the photojournalist in his white dress shirt, leather jacket, dark sunglasses and green cargo pants. It's the one iconic outfit that has been made popular since Frank's first appearance in the original Dead Rising from all those years ago. Speaking of the original, players will also be able to don the Adam The Clown outfit, enabling Frank to have access to twin chainsaws.
The undead version of Frank is also playable from the post-story DLC, Frank Rising. And the last new outfit that was unveiled in the trailer was a classic Dante costume from Capcom's other famous hack-and-slash series, Devil May Cry.
You'll be able to find these costumes as a part of the story mode, scattered throughout the game world either via collectibles or by unlocking them at the arcade machines located around the town in Dead Rising 4.
What's more is that you'll also be able to partake in special side-quests for each of the Capcom Heroes outfits and unlock additional abilities, vehicles, and specials. There are also various posters and collectibles you can snap photos of in order to unlock special Capcom-related trivia.
The best part about it is that Capcom Heroes will be a free update for PC and Xbox One owners, and it will be included in the standard package for PlayStation 4 owners when Dead Rising 4 launches this upcoming December.
Your Daily Blend of Entertainment News
Staff Writer at CinemaBlend.